Weaver bird nests sighted at Bhitarkanika

Jitendra Garanayak
&nbsp | &nbsp Bhubaneswar
20-July-2012
Vol 3&nbsp|&nbspIssue 29
A piece of good news for ornithologists and bird lovers in Odisha. At least 30 nests of weaver birds have been sighted at Dangamala Crocodile Research Centre in Bhitarkanika National Park.
"Forest officials of Bhitarkanika National Park have recently sighted these nests. It is a positive sign as the population of weaver birds is declining fast," says Ranger Durga Charan Sahu of Kanika block.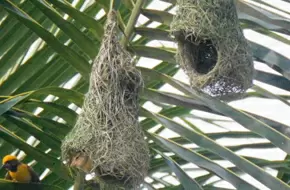 Weaver birds prefer to live in a colony with several nests on a single tree (Photo: The Sunday Indian)
Weaver birds are mostly found in South and South-East Asia. They live in grasslands, cultivated areas, and shrubs. They are generally found near fresh or brackish water bodies.

These birds are small in size. Non-breeding males and females look alike. And these birds are best known for their elaborately woven nests.
According to Sahu, these birds breed during monsoon. During this season, the male weaver birds build nests to attract female birds. They use their artistry in weaving the nests.

They prefer to live in a colony with several nests on a single tree. Often one can find 20 to 30 nests on a single tree. One female lays about 2 to 4 eggs in the nest.
"The males take about 20 days to construct a nest. Each strip can be between 20 and 60 cm in length," says Sahu.
It is worth mentioning here that almost a decade back the nests of weaver birds was a common sight all around the state. But there has been a sudden decline in their numbers.

Ornithologists find problem of habitat and non-availability of food grains as the main reasons behind the dwindling of these birds.

These birds generally use long strips of paddy leaves, rough grass and long strips torn from palm fronds to make nest. But due to rapid urbanisation the nest-building material has been reduced.

By arrangement with The Sunday Indian

Wish to share your story?
Trending Now: