A government bus driver is on a tree planting drive without applying brakes

01-June-2012
Vol 3&nbsp|&nbspIssue 22
If DMK chief Karunanidhi loves politics this Karunanidhi loves trees. He belongs to a village called Sangeethamangalam, 25 km away from Villupuram district in Tamil Nadu.
This Karunanidhi inherited love for trees from his grandfather Vellaiyak Gounder. His grandfather created and maintained 150 acre forest in a place called Senjikkottai.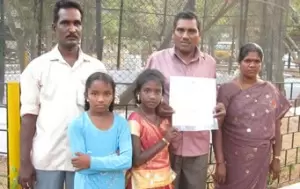 Karunanidhi (right) has planted about 5 lakh trees
Karunanidhi fell in love with the scenic beauty of his native village and developed a deep and strong love for nature.
"Once upon a time our village was filled with dense trees and a lot of birds but later they were all gone. This made me so sad. When I visited Thanjavur in connection with my work, I saw lot of trees and got the idea of planting trees in my village," says Karunanidhi.
"Now, our village looks greener than ever. I have planted trees in many other villages. I spend my own money. Recently, the forest department appreciated my work and gave me Rs.50000 as reward," he added.
As driver in government transport department, he used to drive the stretch between Thanjavur and Kumbakonam. Karunanidhi was impressed by the trees he saw on the route.

He is fifty years old now and has been planting trees for the past 20 years. Initially he offered two trees to every household in the village and now the village has 2000 trees.

Overall, he has provided about 5 lakh trees to 150 villages. This selfless service has earned him the nick name "Tree Karunanidhi".
Karunanidhi said that he worked during holidays and other leave days and used the money that he earned to buy plants.
Though his wife doesn't show interest in his service, his mother, who is no more, used to greatly appreciate his efforts. He has planned to plant 50,000 trees in memory of his mother.
Karunanidhi also delivers lectures on forest development and earns about Rs.300 per hour for such lectures.
But, again he uses this money to plant more trees. Apart from donating many trees to Golden Temple at Vellore, he has submitted a project to the Thiruvannamalai district administration for planting 6 lakh trees in the district.

By arrangement with The Sunday Indian

Wish to share your story?
Trending Now: