Love for national bird puts an obscure Bihar village on the national map

Imran Khan
&nbsp | &nbsp Madhopur (Bihar)
18-May-2012
Vol 3&nbsp|&nbspIssue 20
A wave of excitement has swept Bihar's Madhopur-Gobind village, home to around 500 peacocks. For years, people here have proudly co-existed with the national bird, and now the state government is contemplating developing it as 'mayur vihar', a protected site for the bird.
The village situated in East Champaran district is popularly known as 'mor gaon' or peacock village, and is divided into two parts by the Gandak canal.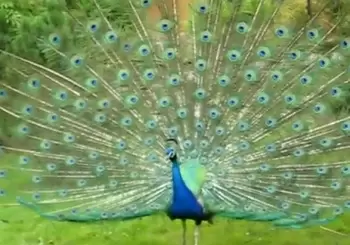 The peacocks in the village have become friendly with the humans and they co-exist peacefully
Villagers' hopes were raised last month when Chief Minister Nitish Kumar visited the village, spread over 700 acres. He directed the authorities to take steps to protect peacocks and facilitate their safe breeding. Peacocks are also known as 'mayur' in Hindi.
Anil Kumar Singh and his neighbour Santosh Singh are among hundreds of villagers who are expecting a team of wildlife experts to visit the village soon.
"A team of wildlife experts is likely to visit our village to study the steps to be taken to provide safety to peacocks," Anil said.
Lalbabu Manjhi, a district forest official, said over a dozen peacocks can be spotted in any part of the village which is a rare thing.
"The state government is contemplating developing the village as 'mayur vihar' to attract tourists and protect the national bird," he said.
He said tourists will be delighted to see peacocks walking and sitting near them. "Peacocks are treating the village as their home. They are perching freely on tree tops, huts and rooftops. Sometimes they hide in dense bamboo groves and mango orchards."
Anil said the village has become a natural habitat for peacocks. "Villagers are ready to provide land to the government to develop part of the canal land as a peacock habitat."
"In a bid to conserve and protect peacocks, villagers have an old system to punish or fine anyone found guilty of killing them," he revealed.
Santosh said peacocks are a source of happiness and peace for children and women, particularly during the rainy season. "Dancing peacocks and upbeat peacocks are a delight for all of us as they give us energy," he said.
The bird was first brought to the village over 60 years ago when one Chandrika Singh bought a couple of peacocks from the Sonepur fair in 1950, according to another villager, Pramod Kumar.
"The number of the birds has swelled over the years. Since there are restrictions against the domestication of the birds, the villagers have jointly provided a number of shelters for them near the village orchard, cowsheds and outhouses," he said.
The villagers have also taken the responsibility of protecting the birds from animals or poachers. A pond has been made especially for the use of the birds. Most of the birds have become friendly with the humans and they co-exist peacefully. - IANS

Wish to share your story?
Trending Now: