Ethnic communities are striving to protect India's bio diversity through organic farming

26-April-2012
Vol 3&nbsp|&nbspIssue 17
INDIA IS a centre of megadiversity, not only geographically but also in its food. For instance, there used to be more than 3 lakh varieties of rice and there are more than 50 traditional varieties of Brinjal grown in the country.

More than 20,000 varieties of rice have been documented by former director of Central Rice Research Institute, Dr R H Richaria, which are now stored at the Raipur-based Indira Gandhi Agriculture University gene bank.

This diversity can be experienced when you visit parts of Odisha, Chattisgarh and other remote areas. In Sunderbans of West Bengal, you will find people defying agriculture scientists who claim that rice can't be grown in salt water.

This special salt-resistant variety of rice has been passed on to the people by their ancestors. Similarly, a deep water variety of rice is harvested using a small boat in areas around Kolkata and Visakhapatnam.

On the banks of Varda, a tributary of Tungabhadra river in Karnataka, people grow flood-tolerant rice which remains submerged in water for 20-25 days paddy and gives 10-12 quintal of yield per acre.
The need for chemicals is eliminated due to the nutrition rich silt brought by the flood. The fact that these practices are now limited to specific areas underscore the hegemony of modern agriculture practices.
Whether it's the use of fertilisers and pesticides, mono cropping (cultivation of single crop at a time) or excessive exploitation of groundwater, the false alarm of food security is not only increasing input costs for farmers but also turning our food unhealthy.

The procurement policies negate any benefits by mixing naturally-grown grain with that produced using heavy dose of chemicals.

This is why the community initiative involving small farmers' groups and more than 2,000 seed conservers in Karnataka is a welcome change.

Starting with nine women farmers in 2000, the movement called 'Sahaja Samrudha' (bountiful nature) has grown into a network of small farmers.

Around 300 seeds of ragi, paddy, minor millets, vegetables, pulses and so on are being conserved all over Karnataka. Besides farmers, weekend doctors, software engineers and media friends are making it a community effort in its true spirit. There is no field office but the network is spread all over Karnataka.

Preserving the pride

Bore Gowda, a farmer from Shivahalli in Mandya district near Mysore had 70 varieties in 2008. He questions the logic behind use of pesticides and fertilisers.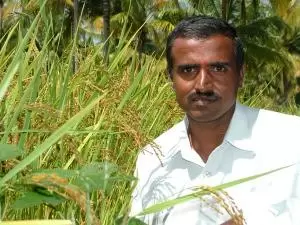 Bore Gowda has preserved 70 rice varieties (Photos: Sahaja Samrudha)
"Paddy is a grass family. Does anybody apply chemicals to grasses? Pests and diseases do come but they don't drastically affect the yield," he says confidently.

Today, his home is a museum of learning on traditional seeds and he has inspired 60 more farmers to save seeds in the region each one conserving around 20-30 varieties.

Rajamudi rice, a favourite variety of the erstwhile Maharaja of Mysore, is the focus of their attention with each farmer preserving one of its various strains. This rice, when cooked, remains unspoiled for two days.

Nandish, another farmer from Shikaripura in Shimoga district took over 28 acre of family fields after his father passed away. After two years of following chemical-based farming, he got interested in traditional methods of farming after reading 'One straw revolution: An introduction to natural farming' by Masanobu Fukuoka.

He searched for green manure and now uses 120 green manures including weeds. Nandish calls it legume culture. "I am a lazy farmer following easy farming. I mix up everything and use it on the 28 acre of rice field with help of only two farm hands.

"No chemicals means less work," he points out. Nandish gets a record 32 quintal of yield per acre which has also attracted the attention of Bangalore Agriculture University.

The movement is not constricted to individual farmers. Banavasi panchayat consisting of 3-4 villages in Sirsi taluk started the first community seed bank and has conserved more than 30 varieties of rice each with a specific purpose.

While one is best for making upma, the other is used as offering to God. Vaswani Darwaj has conserved 11 medicinal varieties of rice which have been found to provide relief in various conditions including herpes, diarrhea, piles, during pregnancy and also to increase breast milk for lactating mothers.

Lab analysis done on the variety said to be good for pregnant women found that it was rich in iron.

Sarojammma, a simple housewife from Harihar in Davanagere district, got inspired when she saw the work being done by the group on TV. She volunteered half an acre of her backyard and has helped conserve 24 different varieties of rice.

That organic farming is making inroads in a big way can be gauged from Sindhanur taluk. The area boasts of maximum number of tractors in India signifying the importance given to modern agriculture practices.

However, the farmers have now realised that the input costs have risen to unmanageable proportions. Many of them are now using only green manure and cultivating traditional varieties.

Bringing consumers and communities together

Organic agriculture can be sustained only if there are consumers willing to support the farmer. The story of Nagappa Nimbegondi stands testimony to the fact.

He has revived 23 non-Bt cotton varieties and 40 varieties of millets. Since there are very less traditional cotton varieties existing now, the seeds conserved by him have travelled to fields across India.

Last year, this farmer from Makari village in Haveri district of the state faced a financial crisis and needed Rs 50,000 to pay for acquiring 2 acre of land on lease. His story was posted on Google group of Sahaja Samrudha and by the very next day Rs 90,000 had been collected.

Various ethnic communities are also getting involved in this conservation movement. For instance, Tibetan settlements are growing various varieties of tomatoes including weed tomato, which can be raised easily by city farmers with no fear of pests.

To link organic farmers directly to the consumers, Sahaja Samrudha Organic Producers Company Ltd was formed in 2010 with initial investment of Rs 2 lakh.

It involved 250 individual farmers and 10 farmer groups. The annual turnover of the company was Rs 70 lakh last year which is expected to touch Rs 1 crore this year.

Several outlets have been established including in offices of IT companies like Wipro. A collaboration with Infosys to establish a farmer market is on the anvil.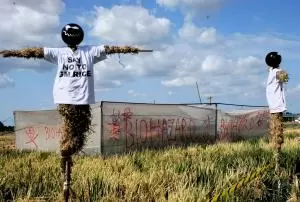 Farmers have actively participated in anti-GM food movement
Different traditional seeds worth Rs 10 lakh are sold annually and there are plans to establish a first farmers' seed company. Marketing of red rice was one challenge the group faced because both the consumers and traders were averse to it.

Scientific approach was adopted through lab analysis which proved that dietary fiber in unpolished red rice was much more than polished rice. Hence the former can be good for controlling blood sugar and overall health.

Through a sustained campaign involving celebrities and politicians, red rice has now become favourite of diabetics. Every year, unpolished rice worth Rs 4 lakh is sold through rice melas.

Fighting GM through multi-cropping

Before the advent of green revolution, which propagated the concept of monoculture (growing one crop at a time), Indian farmers had been cultivating two or three crops together. Travel to parts of Chattisgarh, Malad and Sahyadri range of Maharashtra and Karnataka, you will smell a different flavour as rice grows with ragi, soyabean or jowar.

When Karnataka's department of agriculture pushed for Bt Cotton, Sahaja Samrudha joined hands with other groups to lobby hard for the traditional multi cropping systems like Akkadi, which is a millet - based pattern.

When former Union Environment Minister Jairam Ramesh came to hold public discussion on Bt Brinjal, farmers dumped more than 50 traditional varieties of Brinjal and asked him: "What's the need for a genetically-modified (GM) Brinjal when we have such a vast heritage?"

In fact, the high yield argument of GM promoters has been rightly thwarted by the community through more logical definition of a good variety.

As many as 14 parameters including amount of fodder, cooking quality, pest and disease resistance, drought resistance and shelf life, are considered much more important than yield. – GOI Monitor

G Krishna Prasad is the founder director of Sahaja Samrudha, a grassroots-level organisation involving organic farmers and seed savers


Trending Now: