Come, let's find ways to dispose e-waste

25-April-2012
Vol 3&nbsp|&nbspIssue 16
Today's electronic gadgets are tomorrow's e-waste. E-waste encompasses refrigerators, air-conditioners, televisions, computers and mobile phones. E-waste disposal has become a major environmental concern in recent times.

Although e-waste constitutes less than 1 per cent of the total wastes generated in India, it is growing at 2-3 per cent per year, compared to other wastes.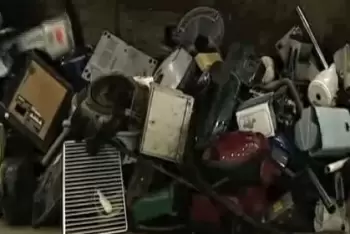 India along with other Asian and African countries is becoming a dumping ground for hazardous e-waste
E-waste comes from households, large and small businesses, institutions and government offices. Electronic equipment are often discarded not because they are broken, but simply because new technology has left them outdated or undesirable.

E-wastes, especially computers, contain large quantities of toxic substances that pose health and environmental hazards.

These toxic materials include lead, cadmium, barium, highly flammable plastic, mercury and gases. When thrown into the water – as we do with other waste—e-wastes kill fish and wildlife and damage people's health.

E-waste is most often dumped in landfills where garbage is piled up and eventually covered with soil. Sometimes, it is burnt in incinerators or open pits. Burning of e-waste leads to formation of toxic gases like dioxin and furan, which can contaminate the atmosphere.

In developed countries, e-waste recycling takes place in recycling plants under controlled conditions. In India and other developing countries, there are no such controls. Recycling is done by hand in scrap yards, often by children.

Industrialised nations like USA, being the largest consumers of electronic goods, often dispose their e-waste by exporting them to underdeveloped nations.

Thus, India along with other Asian and African countries is increasingly becoming a dumping ground for hazardous e-waste due to cheap labour and lower disposal costs and lax or no enforcement of environmental laws.

There is also a need to promote eco-friendly techniques for the recovery and recycling of e-waste. Manufacturers should take responsibility and involve in product take-back, remanufacturing and redesigning. The mantra of 'reduce, reuse, and recycle' applies to e-waste as well.

The writer is director, C.P.R Environmental Education Centre

(This is the first of a series of articles originally published in Deccan Chronicle, Chennai edition, as part of their Campaign for Safe Disposal of E-Waste. The Weekend Leader is re-publishing the articles as an online partner of the campaign.)
Wish to share your story?
Trending Now: