Latest rhino census in Assam throws up encouraging results for wild life lovers
13-April-2012
Vol 3&nbsp|&nbspIssue 15
A census of one-horned rhinos at the renowned Kaziranga National Park (KNP) in Assam recorded an increase of almost 250 animals over a three-year period.
The last census in 2009 recorded 2,048 rhinos in KNP, of which eight were trans-located to Manas National Park.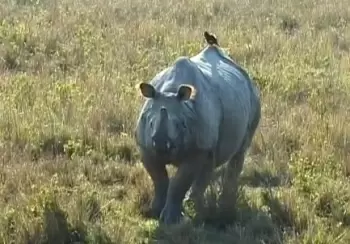 The target of Indian Rhino Vision 2020 to attain a 3000 rhino population is now looking achievable
The two-day-long census, which ended late Sunday evening, recorded the presence of 2,290 one-horned rhinos in the Park, a senior official involved in the census operation said.
"This indicates a healthy growth of the rhino population in the park. We are happy about the growth and now, we are only 495 rhinos short of attaining a 3,000 rhino population, which was the target of Indian Rhino Vision (IRV) 2020," he said.
The IRV, 2020 is a joint programme of the Assam forest department, World Wildlife Fund for Nature (WWF) and International Rhino Foundation (IRF) with the goal of attaining a population of 3,000 wild rhinos in seven protected areas of Assam by the year 2020.
With 2,290 rhinos in KNP, Assam's total rhino population now stands at 2,505. The census operation, which was carried out last month at Pabitora wildlife sanctuary in Morigaon district, recorded 93 rhinos while the Rajiv Gandhi National Park at Orang in Darrang district recorded 100 rhinos. There were another 22 one-horned rhinos in Manas National Park in Assam.
The rhino census in different parks and sanctuaries were conducted in the supervision of the state's Chief Conservator of Forests (Wildlife) S.P. Singh.
Besides, other officials of the forest department, wildlife NGOs like WWF-India, WTI, Aaranyak, and Green Guard Nature Organization also took part in the census.
The parks and sanctuaries were divided in various zones and then the group of enumerators, comprising enumerator, guide, mahout and a departmental elephant, undertook a visual counting of the rhino population.
The census began at 5 a.m. in all blocks and lasted till afternoon. All data received from all the blocks were compiled and analyzed by an expert team, which included senior forest officials and representatives of NGOs.
While the census in Pabtora wildlife sanctuary and Rajiv Gandhi National Park at Orang were covered in one single day, it took two days for the enumerators to complete the counting at Kaziranga National Park. - IANS

Wish to share your story?
Trending Now: