Environmentalists alarmed at rise in sea animal deaths on India's west coast

Quaid Najmi
&nbsp | &nbsp Mumbai / Ratnagiri
07-April-2012
Vol 3&nbsp|&nbspIssue 14
Two giant Baleen's humpback whale sharks washed up dead on the Mumbai and Thane beaches in separate incidents last week. This was preceded by a Bryde's whale shark getting washed ashore at a beach in Ratnagiri, around 250 km south of Mumbai.
In the past couple of months alone, over a dozen dead dolphins, usually seen frolicking in the calm blue-green Konkan coast waters, washed up on different virgin beaches in the region.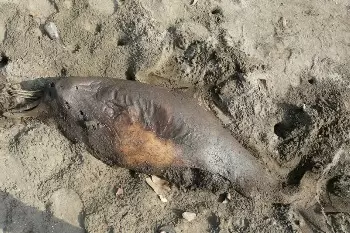 A dead dolphin at Maral beach (Photos: IANS)
Conservationists suspect chemical or oil poisoning. "All these instances are not natural. There's something more serious than we are aware of and it needs a detailed probe," said a visibly disturbed Vishwas (Bhau) Katdare, who is spearheading conservation efforts for turtles, vultures and other animals in the Konkan through the NGO Sahyadri Nisarg Mitra (SNM).
At times, a turtle or a huge fish may get entangled in the thousands of fishing nets cast off the coasts, said Katdare.
"Most of them are saved as the fishermen disentangle them and release them back into the sea and hardly one or two of the unlucky ones may succumb. We get one or two such instances in a month," Katdare explained.
But the alarm bells rang when in late March, a dozen big and small Olive Ridley turtles were found dead on various Konkan beaches. This was in addition to over five dozen turtles of different varieties being reported dead on Konkan beaches, right from Ratnagiri to Thane, in the past month or so.
A shocking incident was reported Friday from Velas in Ratnagiri district by a school teacher and an amateur conservationist, Mohan Upadhye.
"I had taken my two pet dogs to the beach for their morning walk. There, out of curiosity, they happened to lick a carcass of a turtle lying on the beach. Around three hours later, they both mysteriously died at my home. I have no clue as to what happened," says Upadhye.
Last month, at least two full-grown cows which had strayed on the beaches in Shriwardhan and Dive-agar had unwittingly licked turtle carcasses and fell dead after a few hours in the village, Upadhye said.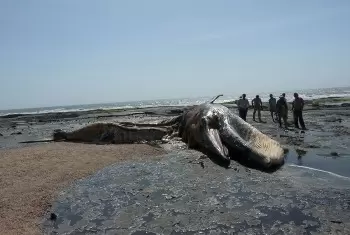 A dead Bryde's whale washes up ashore. Ecologists suspect oil or chemical poisoning
Expressing outrage, Himanshu Shah, director, Nature and Adventure Centre of the prestigious Bharatiya Vidya Bhavan in Mumbai, said, "This reeks of chemical or oil poisoning.
"In the past few years, Mumbai and surrounding coasts have witnessed many sunken ships, oil spills and other forms of assaults by humans on nature. This could be one of the reasons for the large number of sea animal deaths on beaches and a warning that we cannot continue to tamper with the natural surroundings," Shah said.
Katdare said SNM has already informed the authorities about the ongoing developments in the Konkan region and if necessary, he plans to write to the state and central governments on the issue.
"The worst aspect is that the scientific autopsies of these dead creatures are not being carried out to ascertain what could have caused so many deaths in such a short period, whether it is pollution or chemical poisoning or some other reasons," Katdare pointed out.
He said it was ironical that just as SNM and Kirat Trust had been successively involved in saving hundreds of turtle hatchlings since December 2011-March 2012, these were now dying on the beaches.
"In the past 10 years, we have managed to save over 35,000 turtle eggs from natural and human predators here and released them safely into the Arabian Sea," Katdare said.
The Konkan is one of the biggest nesting grounds for Olive Ridley, sea green and other giant and small turtles in the world, and the annual turtle festivals attract tourists and conservationists from all over the world here.
Shah called upon the Ministry of Environment and Forests, the Maharashtra Pollution Control Board, the Indian Coast Guard, Marine Police and other agencies as well as the fisherfolk to take immediate steps to ensure that ships sailing in and around the Konkan region do not discharge chemical wastes, hazardous pollutants or leak oils in the Arabian Sea.
"Currently, it is these mute and innocent sea animals. The next on the list could be humans," Shah warned. - IANS

Wish to share your story?
Trending Now: