As WWF team traps snow leopard in camera, call to save them becomes shriller
Rajat Ghai
&nbsp | &nbsp New Delhi/ Srinagar
15-March-2012
Vol 3&nbsp|&nbspIssue 11
Some days ago, on a wind-swept, desolate mountainside in Jammu and Kashmir's Kargil district, infra-red cameras captured a shape moving about in the cold winter night. To the naked, untrained eye, it might have appeared to be a ghostly apparition. But for environmentalists, it was a cause for celebration.
For that shape was none other than a snow leopard - the mysterious, secretive and most endangered cat of Asia.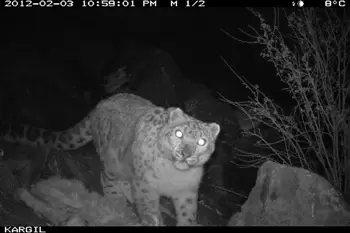 Camera traps in Kargil have yielded more than 500 snaps of the charismatic white leopards (Photo courtesy: WWF India & Dept of Wildlife J & K)
"We had set up four camera traps just a few kilometres away from the Line of Control (LoC) in October 2010. They have now yielded more than 500 snaps. This is the first time that snow leopards have been shot by camera traps. In 2009, I had shot one with a hand-held camera," said researcher Aishwarya Maheshwari who led the WWF team that set the traps.
Maheshwari's achievement received an enthusiastic response from India's environmental community. "It shows that wildlife can survive in conflict zones too," feels Maheshwari.
The snow leopard (Panthera Uncia) is mainly found in mountainous central and south Asia, in mountain ranges like the Altai, Pamirs, Tian Shan, Kunlun, Hindu Kush, Karakoram and the Himalayas.
Koustubh Sharma, senior regional ecologist at the India chapter of the US-based Snow Leopard Conservation Trust, says, "Snow leopards are found across 12 countries and an area of two million sq km. As few as 3,500 or 7,000 individuals are believed to be left in the wild. In India, a ball park estimate is that of about 700-1,000 individuals."
Given that the snow leopard's range covers some of the highest mountains of the world, research on the animal has always been difficult, if not impossible.

Says Maheshwari, "It is very difficult to sight a snow leopard. For one, their range covers several international borders and conflict zones. Secondly, they are mostly found in mountainous areas, above the tree line, usually starting at 3,000 metres. In such regions, biologists can only work during short summers and not winters when temperatures dip. A lack of logistic support thus hinders research," says Maheshwari.

But research is what is needed most today as poaching, habitat and prey base loss and retaliatory killings by humans contrive to deplete snow leopard populations.
"The major threat to the animal is from loss of natural prey due to high human usage of alpine pastures by livestock. This brings the snow leopard into conflict with local human interests since they are forced to prey on livestock. Often, they are poisoned or killed due to this conflict. Also there is a huge price for the pelt of the snow leopard in the international market," says Dr. Y.V. Jhala, one of India's foremost big cat experts.
Sharma also feels that approaches to snow leopard conservation need to vary from region to region. "It highlights the fact that landscape/site specific conservation models need to be used for saving snow leopards," he says.
In 2009, the Union Ministry of Environment and Forests launched the ambitious "Project Snow Leopard" for conserving the population of the snow leopard in five Indian Himalayan states - Jammu and Kashmir, Himachal Pradesh, Uttarakhand, Sikkim and Arunachal Pradesh. The results have so far been mixed.
"Nothing much has happened on the ground," says Qamar Qureshi, senior scientist and researcher at the Dehradun-based Wildlife Institute of India (WII).
However, Sharma strikes an optimistic note: "Project Snow Leopard aims at holistic conservation of the species while using efficient monitoring protocols."
Across Asia too, scientists are hopeful that the greatest difficulty facing the snow leopard might in fact become a boon for its conservation. The animal's range straddles some of the most strife-torn conflict zones in the world - Xinjiang, Tibet, Afghanistan, Kashmir and Arunachal Pradesh. But political turmoil might turn out to be a saviour.
"International boundaries are the best hopes for the survival of wildlife. Most animals thrive when human use of the land is low or absent - this being the case on disputed borders. The Demilitarized Zone between North and South Korea is a boon for wildlife," says Jhala.
Dr. Bilal Habib, research scientist at the WII, said: "Political instability may have hindered in knowing exact numbers or other research aspects. But from a conservation perspective, the turmoil has actually helped wildlife to recover in such areas."
In the end, feels Sharma, the conservation of the snow leopard is of absolute importance. "Snow leopards are the thermometers of the mountain ecosystem. They are also one of the most charismatic cats adapted to living in these high altitudes. It is important that we save this species." - IANS


Trending Now: