TERI chief backs green building technologies
12-March-2012
Vol 3&nbsp|&nbspIssue 10
Warning that India is facing an energy security challenge, renowned environmentalist R.K. Pachauri, director general of The Energy and Resources Institute (TERI) feels use of green construction technologies would reduce operational costs.
"This country is facing a serious challenge of energy security. Demand for energy in this country is dangerously high. Applying green technologies in construction of buildings could reduce operational charges by up to 30-40 percent," Pachauri said speaking to reporters in Kolkata recently.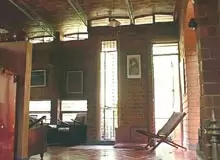 Architect Chitra Vishwanath's house is an earth construction with stone arches, east light, top lighting and no fans. The building harvests 90,000 litres of rainwater, reuses washing machine water, uses solar energy for cooking, lighting and water heating. (Photo Courtesy: Chitra Vishwanath)
He said there was a need to set up green buildings to conserve energy.
Informing that TERI had introduced 'Green Rating System for Buildings' (Griha), based on nationally accepted energy and environmental principles, for developers and the real estate community, Pachauri said if the demand for power from buildings declined, then demand for capital for generating additional capacity would also reduce.
Pachauri, who also heads the Nobel prize-winning Intergovernmental Panel for Climate Change, said TERI, a research institute focused on energy, environment and sustainable development, had informed the central government about the challenges in energy security and given some suggestions.
The renowned environmentalist hoped that the suggestions would be incorporated in the national action plan on climate change. - IANS

Trending Now: