Promoting mushroom to save the lake; mantra of Guwahati NGO
10-March-2012
Vol 3&nbsp|&nbspIssue 10
Mushrooms seem to be helping in ecological conservation at Assam's Deepor Beel. Guwahati based NGO Eco Concept has come forward to help the people living on the periphery of the freshwater lake, providing them an alternative source of income through mushroom cultivation.
Deepor Beel, located in the southwestern corner of Guwahati and covering an area of about 41 sq km, is one of the largest in the Brahmaputra Valley. It was listed as a Ramsar site in 2002 for undertaking conservation measures on the basis of its biological and environmental importance.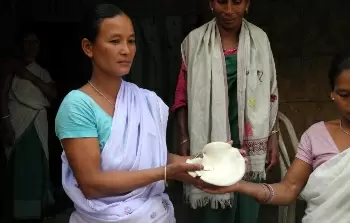 A freshly harvested mushroom from a farm
The Beel provides direct and indirect livelihood to about 3,000 people of 16 villages located on its periphery.
The villagers had no proper source of income and they either killed migratory birds or took to extensive fishing in the lake for a living.
This posed serious threats to the bio-diversity of the water body.
"I felt that we can conserve the bio diversity of the water body only by making the families self-sufficient," said Eco Concept director Nilutpal Das.
"The people of villages in periphery take to community fishing in the lake on the first Sunday of January every year. Many people earn good amounts of money by selling the fish," he said, adding that he realized that the destruction of bio diversity of the Beel will not stop until these villagers become economically sound.
"I discussed with a few of my friends and hit upon the idea of mushroom cultivation as alternate livelihood for these people," he said.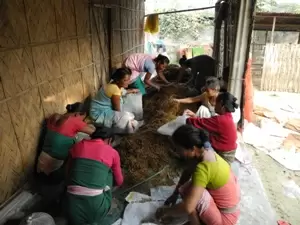 Women engaged in preparing the bags for mushroom cultivation
The effort of Das showed its result soon and the mushroom cultivation centre at Pamohi has already been completed. While the centre already has 300 mushroom bags, the NGO is working on increasing the number to 700 at present.
"I spent Rs.50,000 to set up the training centre for mushroom cultivation. Already two self help groups have started harvesting the mushrooms and selling them in the market. Mushroom sells around Rs.100 per kg. One of the groups is harvesting around 4-6 kilos per kg daily. The investment required to harvest 1 kg mushroom is just Rs.20," said Das.
"The youth of the area are enquiring about the prospects of mushroom cultivation. We are also educating the people in and around the Deepor Beel on mushroom cultivation and its economic potential," he said, adding that they were also tying up with some firms from out of the state and abroad that procures mushroom.
For the benefit of the local communities, the Eco Concept will also construct a shed next month where they will make traditional Assamese pithas (rice cakes) of different kinds, which would be marketed locally. – IANS with inputs from TWL Bureau

Trending Now: