Indian engineers in the US all set to change the way the blind move about
Nikhil Walia
&nbsp | &nbsp New Delhi
11-February-2012
Vol 3&nbsp|&nbspIssue 6
Mohammed Wasim is a young helpline operator at India's National Association for the Blind (NAB) who could only perceive brightness and lights, but the lack of ability to discern shapes meant living in a shapeless world where every small obstacle could prove a barrier.
However, viSparsh, a belt-based sensor system (sparsh literally means touch) created by a young team of engineers, could herald a revolutionary change for 25-year-old Wasim, and millions of others who are blind.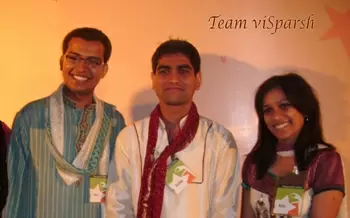 Team viSparsh at a function (Photos: IANS)
Engineers Rolly Seth, Jatin Sharma and Tushar Chugh are Young India Fellows and are developing viSparsh under technical guidance of professor Rahul Mangharam of the University of Pennsylvania.
Whenever a user wearing viSparsh belt encounters an obstacle, the sensors find the distance and direction of the obstacle and provide vibratory feedback to the user.
For this, the team modified Microsoft's Kinect, a motion sensing input device for the Xbox 360 video game console, and mounted it on the belt.
The vibrations are produced only in the direction of the obstacle and the intensity of the vibration increases as the obstacle gets closer so that the user can identify the direction of obstacle and judge if the obstacle is near or far.
The belt has been tested for usability at NAB. Wasim helped the team with some trial runs.
"The vibration patterns are quite understandable. It's good that the belt can tell the direction in which the obstacles are detected," said Wasim during the trials.
The first stage of development is already over, said engineer Jatin Sharma. "We're now at stage two. We have proved the usability; now our focus is on minimising the weight of the system and enhancing the battery backup," he said.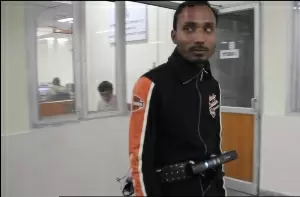 Wasim trying out viSparsh belt
Speaking of their roadmap about viSparsh, Rolly Seth said, "The stage one is over and stage two is progressing rapidly. The next stage will be fabrication of the device."
"The fabrication will be done in the US, after which the device will be ready for mass production," said Tushar Chugh.
If produced, viSparsh will be a new hope to many, who could walk free and unhindered.
According to the World Health Organisation (WHO), there are some 285 million visually impaired people around the world, of whom 39 million are completely blind. - IANS


Trending Now: