Hurrah! World quality roads for Bangalore - in a few years
V S Karnic
&nbsp | &nbsp Bangalore
13-October-2011
Vol 2&nbsp|&nbspIssue 40
With potholed, congested, pedestrian-unfriendly roads chipping away at Bangalore's brand value as India's IT hub, plans are on to raise their quality to international levels. But it will still be several years before one can zoom down on them.
The ambitious exercise -- a public-private initiative with the government funding the project and selecting the contractor to execute the work, while the private contribution will be in design and planning -- will begin as a pilot project on about 15 roads, with 10 in the city's central business district and five in the suburbs.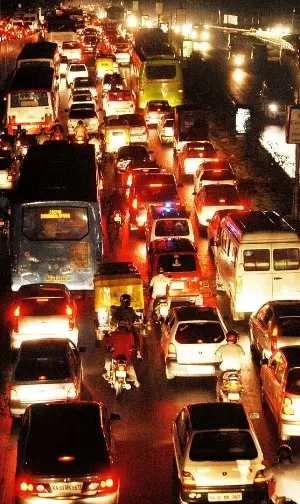 Overburdened roads: Most roads in Bangalore are operating above their capacity and the volume to capacity ratio ranges 1:2, 1:3 and 1:5 (Photo: Saggere Radhakrishna)
The private partner is the Bangalore City Connect Foundation (BCCF), an alliance of the NGO Janagraha and the Confederation of Indian Industry (CII), and supported by Infosys co-chairman Kris Gopalkrishnan and Biocon head Kiran Mazumdar-Shaw, leading lights of the IT and biotechnology sectors respectively.
The state government and BCCF entered into partnership last week to begin the process of upgrading about 50 roads across Karnataka, including 25 in Bangalore.
Turning these roads, which are choc-a-bloc with vehicles from early morning to late evening on most working days, into world standard avenues, will take about two years from now.
Around Rs.40 crore (Rs 400 million/ 8 million USD) will be spent on the facelift of 35 km of roads, which include Brigade Road, St. Mark's Road and Cunningham Road, all popular shopping areas and hangouts for youth in the city centre.
Bangalore's traffic problem has been growing ever since it became home to scores of major IT, BT, ITES, BPO and call centre operations.
Apart from homegrown giants such as Infosys, Wipro and Biocon, the tech-hub houses back office operations of international majors such as Accenture, Honeywell, Oracle and HSBC.
The city's population is now around eight million and the vehicle count is four million with around a thousand more vehicles added daily. The heavy traffic has forced the authorities to go for road widening not only by chopping trees but by heavily curtailing pedestrian walkways along the roads.
The common complaint of Bangalore residents and people visiting the city from other parts of the state and the country as well as abroad for work or tourism is that it is a great place to be but for the chaotic traffic.
"All or most of the roads are operating above their capacity and the volume to capacity ratio ranges 1:2, 1:3 and 1:5," says Bangalore Traffic Police.
Travel speed has dropped to 15 kmph during the peak hours, according to statistics of the traffic police department.
Hence upgradation of the roads is overdue, in fact.
BCCF has come out with "Project Tender SURE (Specification for Urban Road Execution)", a comprehensive guide to road building - from design to procurement of materials to execution.
"Tender SURE is intended to ensure uniformity in the standards of roads," according to Swati Ramanathan, who started Janagraha along with her husband Ramesh Ramanathan.
Adopting 'Tender SURE" helps bring in not only uniformity in road standards but also ensure coordination between various utility agencies, she said.
A state government spokesperson said that tender for taking up the work on these 15 roads in Bangalore will be issued shortly. - IANS


Trending Now: