A 26-year-old postal assistant turns innovator for need of a portable bicycle

Kavita Kanan Chandra
&nbsp | &nbsp Mumbai
07-October-2011
Vol 2&nbsp|&nbspIssue 40
Cycling enthusiasts have no choice but to wake up before dawn or carry the cycle to the outskirts to enjoy a ride, as congested roads and fumes of pollutant gases make cycling a nightmare in the cities.
Indian cities also lack dedicated cycling tracks like the ones available abroad.

Yet, more number of people would be able to cycle if there is a folding bicycle, portable enough to be carried – say to a college campus or to a park or to the city's outskirts.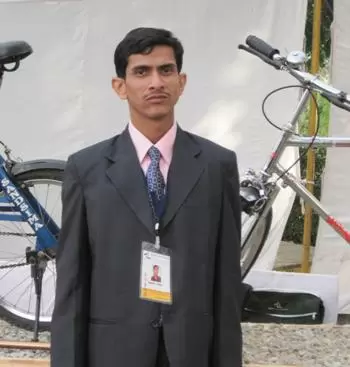 Innovator: Sandeep Kumar's 'folding cycle' has been tested at National Innovation Foundation and found marketable
Realising the need, Sandeep Kumar (26), a Postal Assistant from Muzaffarpur in Bihar, has innovated a 'Folding Bicycle'.

He hit upon the idea while he had to travel from Muzaffarpur, where he was studying, to his village Ramnagar in West Champaran. Though he had a bicycle, he could not carry it to his village.

This graduate of Electronics from Ramdayalu Singh College in Muzaffarpur had been tinkering with gadgets since his childhood. Unlike other kids of his age who would buy toys or toffee with pocket money, Sandeep brought screw drivers, nails and wires to make contraptions.

It was his passion for gadgets that enabled him to build a folding cycle when all his friends branded him as mad. Like many grassroots innovators his first obstacle was funds.

His father is a small village shopkeeper. It took a year for him to raise the required funds through repairing people's gadgets and borrowing some money from his sister Seema, who had always motivated and encouraged him in his studies and innovations.

He bought a basic cycle frame from a scrap shop and tried out various configurations so that the foldable cycle assembly could be done quickly and securely.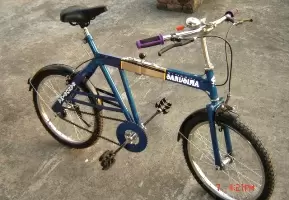 For cutting and welding parts he frequented workshops on Sundays to fabricate parts as per his design. The result was a beautiful foldable cycle he named as SANDSIMA, combining his and his sister's names.

Folding and unfolding the cycle is a simple task. The bicycle's handle portion folds first, followed by the central frame portion.

No tool is required for unfolding. The seat could be fixed as per user height and seating ergonomics.

It could be folded, packed in a large 20 inches bag, and could be easily carried in a train or a bus and then reassembled in just about a minute.

The innovation is also an affordable option for people with disabilities like Sandeep, who was afflicted with polio when he was just nine months old and has a permanently impaired left leg.

Sandeep wrote a letter to APJ Abdul Kalam that it was his desire to show the folding cycle to him. Though his desire was not fulfilled, he was directed to National Innovation Foundation (NIF) where he met Dr Anil K Gupta and learnt a lot of things.

"I realised that no matter how small one's innovation may be, it should benefit more and more people. Now I keep on thinking on this line," said Sandeep.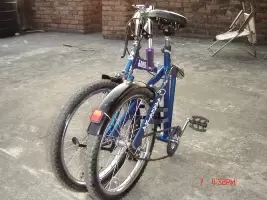 In 2006 he modified the folding cycle and gave one to NIF that had fewer joints, weighed less and had assembly time clocking less than a minute.

"There is no doubt that this folding cycle can change the lifestyles of those who may commute from one place to another by another mode of conveyance but would want to use cycles at their college campus or work spot," said Dr Anil K Gupta, NIF.

Such a trend would make campuses greener and less polluting. Gupta is optimistic that even though cycle manufacturers are yet to show interest in the product, they would someday realise its market and business potential.

Sandeep's first innovation was a clock made from plywood, tin strips and an old clock machine when he was still in class II.

He has also developed light units costing Rs 90 that could be charged by mobile chargers for 30 minutes. It could give light for eight hours and last for six months, after which bulb could be replaced for just Rs 40. It is beneficial in villages and towns where electricity is erratic.

Sandeep keeps himself busy innovating and improvising gadgets. Hopefully his ardent desire to meet Kalam too would happen someday.

Trending Now: