Chennai innovator gives voice to the voiceless
V. Jagannathan
&nbsp | &nbsp Chennai
06-September-2011
Vol 2&nbsp|&nbspIssue 35
After a master's from IIT-Madras, Ajit Narayanan headed to the US like many of his batchmates. But the entrepreneurial bug soon bit and he returned home.
What followed was a speech synthesiser for spastic children and recognition by the Massachusetts Institute of Technology (MIT) as one of the world's top 35 young innovators.
Narayanan, 30, is the founder and chairman and managing director of the city-based Invention Labs Engineering Products Pvt Ltd.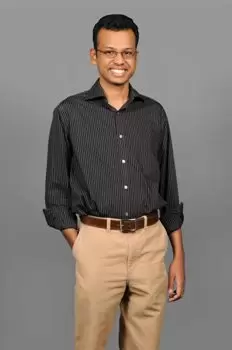 Giving voice: Ajit Narayanan's innovation helps spastic children communicate through artificial voice
He has been named one of the 35 outstanding men and women innovators under 35 years of age by Technology Review (TR) magazine, published by MIT.
He got the acclaim for his product Avaz, a tablet-like communication device for spastic children.
"It is a prestigious award and I feel happy about it. Not many engineers work in this field and it is a nice feeling that fellow engineers appreciate and award products like ours," says Narayanan.
Completing his master's in electrical engineering from the Indian Institute of Technology-Madras (IIT-M) in 2003, Narayanan went to the US to work for American Megatrends.
"I came back here in 2007 mainly to become an entrepreneur. Some of the IIT professors were doing some work for spastic children and they told me to look at development of a product that would help such children," Narayanan said.
It was then that he decided to develop a cost-effective speech synthesiser.
Avaz costs around Rs.30,000 ($650), while similar products in the US cost upwards of Rs.500,000 ($10,800).
"The major challenge was designing the product that will be easily used by a spastic child. As they do not communicate, we had to discuss with the teachers and parents to understand spastic children and design the product," Narayanan said.
He said some four million people in India suffer from cerebral palsy and other disabilities that make it difficult or impossible for them to speak.
"These children's condition is worse than the hearing- or speech-impaired," he said.
A person can use Avaz to construct phrases that are spoken out loud by an artificial voice through in-built speakers. The user can press icons and even type sentences, which the device then converts to voice.
According to him, the total investment in developing the product was around Rs.4 million out of which there was a central government subsidy of Rs.1 million.
Speaking about marketing, Narayanan said: "We are targeting the schools for special children and there are parents who buy this equipment after coming to know about Avaz from the teachers."
"Selling to special schools will have more impact on the users. We would like to make a bigger positive impact on children than looking at retail sales alone.
"I've seen parents weep when Avaz allows them to talk with their child for the first time," Narayanan said.
He is currently working with the Indian Institute of Science, Bangalore, to improve the quality of speech synthesis. He also plans to use mobile application stores to distribute a version of his software with about 90 percent of the Avaz system's functionality.
The company has sold around 100 units since its launch in 2010.
"If this device is made eligible for Rs.10,000 subsidy by the central government under its scheme for purchase of equipments for differently-abled, then the sales would go up," Narayanan said. - IANS


Trending Now: