Amazing story of a stripping machine that revolutionised cotton industry

Kavita Kanan Chandra
&nbsp | &nbsp Mumbai
22-July-2011
Vol 2&nbsp|&nbspIssue 29
From helping his father in the cotton fields to working as a helper in a factory to becoming an electrician to inventing a machine to turning a successful manufacturer of machines, Mansukhbhai Patel has come a long way.

The innovation of 60-year-old Patel, a cotton stripping machine, marketed as 'Chetak', brought about a change in the lives of cotton farmers, who now reap benefits within a week after plucking cotton.

The machine removes cotton from the semi-opened as well as unopened pods of various cotton varieties, processing 400 kg of cotton per hour. It significantly cuts the cost of cotton farming as the cost of stripping has came down from Rs one per kg to Rs one per 20 kg.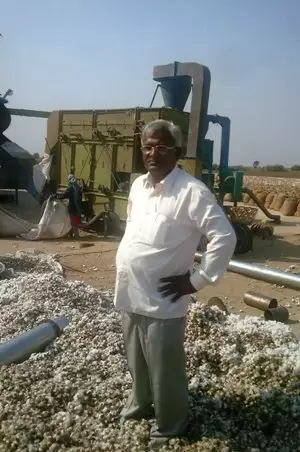 Barefoot inventor: Mansukbhai Patel's machine cut down the cost of cotton stripping 20 times
The machines – each costing Rs 4,51,000 – are produced at the Chetak industries in the GIDC Industrial estate at Hasalpur near Viramgam in Gujarat's Ahmedabad district

Following the success of his cotton stripping machine, Patel scaled greater heights as he diversified his business making products that could reduce manual labour in cotton industries – like cotton bailing machine, automatic ginning machine and conveyor belt.
Hailing from a small village near Viramgam, Patel grew up seeing his father cultivating rain-fed cotton crops and the difficulties he encountered. "I have seen the tedious and time consuming work and huge cost and delay involved in cotton farming. The picking of cotton and manually removing cotton from the pod would take months. The women and children had to do this backbreaking work and education was our first casualty," said Patel.

The harvesting would commence from January and then stripping cotton would take few more months. Only then could cotton be taken to the market. The farmers had to wait up to two months to get returns on their investments.
Patel dropped out of school due to poverty but picked up the skills and knowledge in machineries while working as a helper in a tube manufacturing company.

He always had a penchant for mechanical and electrical appliances and once he stumbled on an idea to develop a cotton stripping machine, there was no looking back for him. He later introduced dust collectors and automatic feeding system to the machine and made it portable.

The grassroots innovation of Patel now has patents in India and USA.

While his sons had to drop out of college, his grand children are reaping the benefits of his hard work and they go to a posh International School in Ahmedabad.

"With the success of business came money and once money comes, a person's lifestyle too changes. But what I value most is education," said Patel, who is extremely happy that children of cotton farmers need not work in fields anymore.
But the success did not come easy. "It was a long process and I used to make a new improved machine every year since 1991. It was in 1995 that I came in contact with the National Innovation Foundation (NIF). I made the first prototype in 1998 and started selling the machine from 2000 onwards," says Patel.
Initially he got financial support from friends and family but his experimentation needed more money. Once when he demonstrated his machine, he got 50 orders. But all machines were later returned as they did not work and he faced severe financial loss and credibility. He discovered it was a trivial technical snag and worked hard to perfect his innovation.

Seeing the potential of the cotton stripper, it was GIAN (Grassroots Incubation Augmentation Networks), NIF and SRISTI (Society for Research and Initiatives for Sustainable Technologies and Institutions) that enabled Mansukhbhai get financial assistance from the Government and the necessary technical guidance from NID (National Institute of Design), Ahmedabad and IIT Mumbai.

Wish to share your story?
Trending Now: