NRI businessman from Ahmedabad owns a flying car

Kavita Kanan Chandra
&nbsp | &nbsp Mumbai
18-May-2011
Vol 2&nbsp|&nbspIssue 19
Subhash Shihora, an NRI businessman from Ahmedabad, is the proud owner of India's first flying car, which can be driven on road like a car and take off like an aircraft at the press of a button.

"It is just like a small plane when it flies but a mere push of button enables the wings to fold, transforming it into a car," said Shihora. While on road the machine looks like a sophisticated sports car, and onlookers will not be able to identify its unique flying prowess.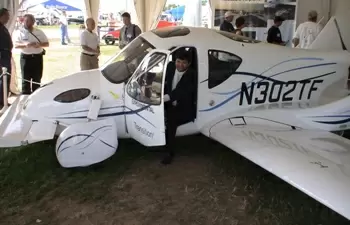 Dream car: For Subhash Shihora the flying car has made hopping from meetings from one city to the other a smooth affair
The flying car named 'Transition' came with a price tag of Rs.1.25 crore in the US. However, Shihora paid heavy duty, which worked out to about 300-400 percent of the actual price, to bring it to India.
He has got clearance from the concerned agencies, including the aviation department and National Security Agency, to operate the car in the country.

"Since I have a large place in Ahmedabad, the car will be parked here. I will be able to attend meetings in different cities in a day; from Ahmedabad to Mumbai, then to Bangalore, Hyderabad and back home," said Shihora.

However he is a bit wary of driving the car on rough and crowded Indian roads where even the cows and buffaloes have their rights to squat at will. He said whatever rules are applicable for 2-4 seater aircraft would be applicable for his flying car.
He needs the airport to take off and land his flying car. The operation is also easy as folding and extending of the wings is done from inside the cockpit.

A major stake-holder in the Rs 2 Lakh crore Urok Consultancy firm in UK, Shihora bought the flying car from 'Terrafugia', a firm in Massachusetts, headed by former NASA experts.
A few from NASA quit their jobs to give wings to their dream of making commercial flying cars and started Terrafugia in 2006. Derived from Latin, 'Terrafugia' means 'escape the earth'.

Wish to share your story?
Trending Now: