A man of idea, Kishen Da wants farmers to stand on their own leg

Akshat Shukla
&nbsp | &nbsp Bangalore
11-February-2011
Vol 2&nbsp|&nbspIssue 6
"Why has 'Chirag' given a Chaff cutter to the Sarpanch and not to me," asked Mohan Da, a farmer based in Chaukhuta, a small village in Uttarakhand, India. Being a volunteer with 'Chirag' (an Uttarakhand based NGO) for less than a week, I struggled to come up with a suitable reply. A voice from behind came to my rescue, "Chirag tries to find solutions to our common problems, not answer them for all of us," it said. The wise man introduced himself as Kishen Da.

As our interaction progressed, I came to realize that Kishen Da was a man of ideas- a crusader to promote self-reliance in this small mountain-village. In conducting my survey for evaluating the impact of Chirag's Integrated Fodder and Livestock Development Program, I would come across 5-6 families daily, who would complain about Chirag not providing them free installments of either a chaff cutter or a gobar gas plant. Kishen Da was clearly different. He wasn't involved in any of the Chirag run programs in the village, had never been given a chaff cutter or a compost pit or tree saplings. But instead of complaining, he thanks Chirag for starting large scale plantations on community lands and providing farmers with nutritious fodder grasses to be grown on private lands.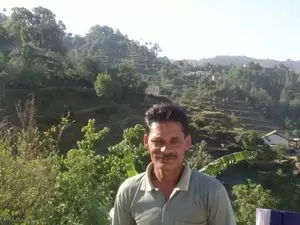 Thinker Farmer: Kishen Da constantly experiments with his crops and farming techniques
Kishen Da was born in the late 1950's. His father, a teacher in a Primary School, instilled in him the desire to learn as much as possible by observing things. Being the brightest in primary school, his father sent him to Haldwani to study further. He eventually dropped out after 10th Grade. The untimely death of his father, forced him to quit his job in Haldwani (the closest urban settlement) and return to Chaukhuta, his native village. Being the eldest among three brothers, he chose to stay back and look after the family. "I was forced to practice agriculture. We had 5 hectares of land and farming was the major source of income," he explained. "During those days all that farmers cultivated was cereals, most of which was consumed by the family itself. Taking the produce to Haldwani was close to impossible and not economical. Neither did the farmers get enough for their produce nor were they aware of crops which could give them better returns."

It was in this setting that Kishen Da decided to innovate and think out-of-the-box. Despite the popularity of chemical fertilizers after the green revolution, Kishen Da wanted to sow his land organically and preserve the long-term productivity of the soil. But soon he realized, that the produce from his fields could not match, in quantity, to that of others who had started using fertilizers. Instead of giving up, he adopted a whole new strategy and began cultivating vegetables, a practice extremely unusual for the hills at that time. With a decent road network in place, transportation was not an issue. "I used to pay frequent visits to an agricultural research center in Ranikhet and tried out certain varieties of cauliflower and tomato." With great enthusiasm I sowed the seeds. "My friends used to mock at me for trying out such things. Even my mother used to think that I would be wasting a season," he recalled. But within a year, his returns had raised much above the other farmers. Roop Singh, his neighbor says, "We were astonished by the quantity of vegetables he'd harvested. Kishen's perseverance had brought him great rewards."
While animal husbandry caught up as a trend in this village, Kishen Da realized that fodder shortage would be the next big problem. Though a dairy, which was set up in a nearby village assured of decent returns, villagers had to buy fodder from faraway places. "Many of the farmers thought buying more milk yielding breeds would increase their income. But managing livestock became a big problem."

Tiwari, a local dweller says, "Although I had three deshi (locally bred) cows, I spent Rs. 15000 to buy a Jersey cow (an imported breed). But shortage of fodder forced me to sell two of the deshi cows."

Kishen Da bought a few nutritious grass varieties from the Agricultural Research Centre in Almora and Nainital. "I didn't have much land to plant these grasses. Hence I decided to develop a plot of community land to for this purpose," he recalls. While others paid hefty sum to buy fodder and cattle feed from outside, Kishen Da attained self sufficiency. His income from sale of milk outpaced other famers' income. Soon, many in the village followed his lead. This also resulted in preserving community lands. Bheem Da remembers, "Kishen used to get these exotic variety of grasses and would ask us to try planting it. We were initially hesitant, but his results motivated us to plant them. I used to spend Rs. 3000 annually on purchasing fodder. Now it has come down to Rs. 500."

Be it feeding animals their fodder in the most efficient way or using drip irrigation, Kishen Da believes in taking risks to explore newer and more effective way of doing things. "Once I planted an American variety of peach, which got destroyed by untimely rain." Not that he always succeeds, but the determination to do things differently has kept him going. He believes that most farmers tend to think of immediate profits without pondering over the future.

He proudly shows me the plantations where he is currently working on making pesticides out of cow urine. "I always wish to be a step ahead of others," he says. With all the farmers cultivating fruits, he has plans to start tea cultivation. From American apples to Jatropha, he is trying it all.
Akshat Shukla is a Grassroutes Fellow 2010. Grassroutes is a fellowship program that enables youth to travel across rural India, discover and work with change makers, do their bit to change the world and inspire more youth into social action. To apply for the 2011 edition of Grassroutes, go to http://bit.ly/gr11.

Wish to share your story?
Trending Now: