Helping social entrepreneurs to make the other India shine
Paul Basil
&nbsp | &nbsp Chennai
24-December-2010
Vol 1&nbsp|&nbspIssue 17
The 'doing good and doing it well' mantra is increasingly finding favour among would-be entrepreneurs. What is the mantra you ask? In short, it is the notion that you can run a successful business that address social needs, while still applying common business practices to make a profit.
As the 'India story' continues to gather sheen, these entrepreneurs – often branded as social entrepreneurs because of the distinct nature of their business – are working hard to make the country's growth story more equitable.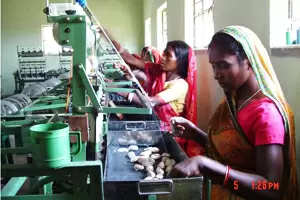 In a Villgro assisted project, a social entrepreneur into tasar silk business in Jharkhand, has provided jobs to over 2500 women
I have been lucky enough to ride this cusp through my career. I was concerned about poverty in India. For many years people have been trying to solve the issue of poverty. The microfinance revolution proved that by providing small finance we could help the poor build small enterprises. Similarly, it has been recognized that other businesses that prioritize social value on par with financial returns can play a crucial role in building a more equitable society.
Villgro Innovations Foundation works towards helping such enterprises reach a level that would help them maximize their social impact. The idea that innovation and enterprise could address the needs of the poor, in specific small and marginal farming communities, was the driving factor behind setting up Villgro.
We are essentially a social business incubator. While our mission is to create a more prosperous India, we set out to achieve this by providing value to innovators and entrepreneurs who want to take their products to the market. We do this by supporting young, start up entrepreneurs in several ways – from business development, connecting them to investors, providing technical and financial assistance.
All of our businesses have very inspiring stories behind them. But a few naturally do stand out. Masuta Producers Company is one of them. Masuta is based in Jharkhand, and is a collective of women who have come together to produce tasar silk yarn. The tasar silk weaving industry is a highly fragmented industry, but holds several opportunities. A young entrepreneur, Madhabananda Ray, saw in Jharkhand the opportunity to provide several tribal women with a regular source of income by including them into the tasar silk production chain. Today with Villgro's technical assistance and business development support, Masuta has been able to provide employment to over 2500 women in Jharkhand.
Supporting young entrepreneurs is crucial to growing this brand of entrepreneurship. It must be recognized that the poor have problems and these problems bring with it opportunities for solutions. They need access to a better lifestyle, with improved access to basic services.

Villgro brings to rural India a new wave of social capital, products and services, and along the way furthers innovation and enterprises that lead to increased rural prosperity. India's growth lies equally in its villages as it does in its cities, and we hope that our work will help further this.

Paul Basil is the founder of Villgro, a not for profit company which empowers rural development by identifying and incubating innovations that could be translated to market based social enterprise models.


Trending Now: