A different newspaper with an editorial by a common man

Basudev Mahapatra
&nbsp | &nbsp Bhubaneswar
22-December-2010
Vol 1&nbsp|&nbspIssue 16
'AROMV' means 'the beginning', in Oriya. It is also the name of a daily newspaper that made a beginning in 1995, only to be closed down after three months. Then it made another beginning in January 2009 and is carrying on successfully earning a reputation as 'People's Paper'.

Priced at Rs 1.50, the 12-page Oriya newspaper, published from Bhubaneswar, stands out from the rest of the crowd as it carries an editorial written by a common man on its front page daily. The writer of the editorial is declared 'People's Editor' of the day.

"If we want to stop exploitation of common people and uphold their rights in the democracy we must empower the downtrodden to react loudly," says Chandra Mishra, the man behind the newspaper.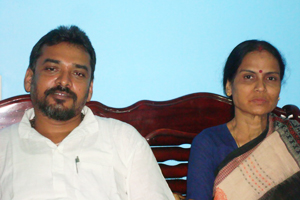 Chandra Mishra and wife Nihar Nalini Sarangi run an Oriya daily called 'AROMV' where a common man writes the editorial everyday
An outspoken journalist, Mishra is the guiding force as the Chairman of Commonman Trust that brings out the newspaper, while his wife Nihar Nalini Sarangi is the editor. Mishra started his career as a journalist with a leading newspaper in the state while Nihar Nalini was a lecturer in English before the couple decided to start the newspaper.

"While working as a reporter, I found that the greatest irony with our media was the kind of falsehood we maintained in the public. We always talk about the rights and welfare of common people but act as per the dictation of the management and the promoters. People's voice often gets suppressed by the unspoken agenda of the promoters and the management. So, the common man is still deprived of a platform where he or she can present it loudly and the echo would reach the corridors of power," says Mishra.

The first to pioneer people's journalism in the state of Orissa, the paper was inaugurated by a common man 'Gandharva Bhoi', who happened to be the father of an innocent youth tortured to death in police custody. AROMV's courageous journalism earned it a circulation of about 10000 within three months.

However, the people's journalism threatened many in power, who ensured that the daily could not survive for long. "Almost after 14 years, we re-launched the newspaper with a bank loan sticking to the same ideas we pursued in 1995," says Mishra adding: 'the kind of problems we faced in between has made us matured and more determined. We lived many starving days, our son's education was delayed by two years, and we managed to survive a number of extreme days. Now, what more can happen to us?'

'AROMV' – otherwise a short form of 'Agenda for Reinforcement of Ordinary Man's Voice' – dedicates few pages exclusively to the issues and miseries of people and its edit page is named Mahapanchayat (the grand meeting of people).
Asked whether the husband-wife duo would make it a success in the re-launch of the newspaper, Mishra laughs and says: "Success and failure are relative and, in my opinion, there is a sure success. Like, first time we failed, but we managed to overcome the difficulties and resume our mission. Even if this time we are not achieving success, our efforts would surely inspire somebody to take it close to success from where we leave. Anyhow, people's voice has to sustain in a democracy!"


Trending Now: