There is nothing called waste when it comes to an elephant

Roohi Saluja Sehgal
&nbsp | &nbsp New Delhi
26-November-2010
Vol 1&nbsp|&nbspIssue 13
When Mahima and Vijendra trekked atop a hill shrine two years ago, little did they know that they were making tracks to a great discovery—converting elephant dung into organic, odour-free, handmade paper.

Trudging up the hill in the company of large pachyderms with swinging tails and rumbling feet, they noticed a large heap of dry elephant dung which looked very similar to the raw fibre from which these two paper-makers usually made paper.

Looking back, today Mahima and Vijendra recall the day as an 'eureka' moment. Mahima recalls, "Being experimental paper makers, we are constantly on the lookout for new fibres to make paper. The dry mound of dung looked very familiar. So we scooped as much dung as we could manage, much to the curious disgust of the passers -by, and tugged it along on our bike. Back home began several experiments, and eventually we came up with not just usable handmade paper, but also a marvelous natural alternative to chemically-manufactured paper."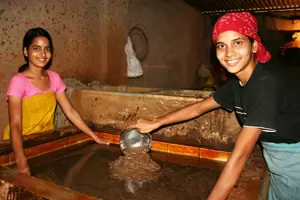 From waste on the ground to paper on your table: Elephant dung being processed in the paper factory
The process is very similar to conventional paper-making, save a few additional procedures that include sterilising the dung-fibre with soda and salt to get rid of its odiferous smell, and ensuring it is bacteria-free. At their working unit in Sanganer (Rajasthan), the sorted fibre is boiled for a minimum four hours in a vat to ensure that the fibre is clean and soft enough to make a pulp. Thereafter, the residue is mixed with water, and lifted on flat sieves to dry into reams of paper.

For binding, the fibre is mixed with cotton rag which is scraps of t shirts bought from local wholesalers. The blending is in a ratio of 3:1—75% elephant dung and only 25% waste cotton.

The production cost is very minimal. The dung is collected from various elephant stables in Rajasthan. The elephant owners are strategically paid in kind—in form of feed for the elephants that include sugarcane, jowar and bajra.

Mahima explains, "Elephant's primary diet is vegetation, and they have a poor digestive system. This in itself is a tempting concoction to make great paper!"

With the paper that arrives in Delhi from Sanganer, Mahima also creates an innovative potpourri of stationery knick knacks including notepads, photo albums, greeting cards, bags, paper toys, and an ingenious range of products, which are marketed locally and internationally under a befitting brand name of Haathi Chaap.

While the elephants have managed to create their space on the globe, Mahima is now on her next adventure to bring in the camels too! Mahima has offered her expertise of papermaking to a local NGO in Sadri, Rajasthan to make paper from camel dung.

Mahima's indulgence in paper-making goes back to several years when she picked up a project on making recycled paper for an NGO. "Having graduated from Lady Sri Ram College, all I had on mind to do next was to recycle! So I took on mainstream handmade paper making from raw cotton. But that was still a chemically-intensive process, and I was on the lookout for new alternatives," says the 40 year old. This is when she met Vijendra—a small-scale paper maker with a fiery desire to create paper ingeniously.


Trending Now: