Local news on mobile phones a hit in Uttar Pradesh

Mohd Faisal Fareed
&nbsp | &nbsp Lucknow
26-November-2010
Vol 1&nbsp|&nbspIssue 13
An innovative news service of a Noida-based media institute, using the mobile phone is making waves in a remote village of Uttar Pradesh. About 250 villagers in Rampur Mathura of Sitapur district, located about 100 km from Lucknow, are subscribers to the novel news-on-mobile initiative of International Media Institute of India (IMII).

At 8 pm every day, the subscribers of Gaon Ki Awaz (Voice of Village) wait for the call on their mobile phones that would give a round-up of important news events in their area. The news-reader is a class XII girl Priya Gupta from the village who gives the news in local Awadhi dialect. Subscribers have taken a liking to the service since the news service deals with just local matters and it strikes a chord with most of them.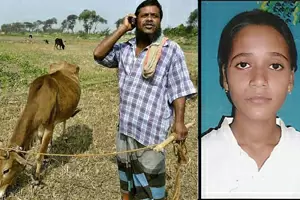 Mobile News: Voice of Village news service provides the daily news in the local area to about 250 subscribers every night at 8 pm. (right) Priya Gupta is a Class XII student in the village who is their ace reporter
Just sample a news bite - 'Rampur Mathura resident Shahzad Ali's son has been hit by a speeding motorcycle. He has been admitted in a serious state at the hospital'.

The news reader 16-year-old Priya was selected by Sunil Saxena, who is presently Dean at IMII, which, on a pilot project, selected Sitapur for the service. Local help came from a onetime journalist and former village head Satyendra Pratap Singh who is also the son of erstwhile Raja of Rampur Mathura. The duo needed a girl who was fluent in local Awadhi dialect and sincere.

Priya who is a student in Rani Saraswati Vidya Mandir Inter College in Rampur Mathura lives with her brother-in-law Neeraj. Both her father and brother-in-law earn their living by a food cart.

Priya's routine has changed after she became a reporter. On her return from school at 2 pm, she heads for the local Block office, Community Health Centre, and the police station for collecting news. The news is related to local events, crops, vaccination programmes, etc.

Later, she records the news in Awadhi dialect on her mobile and sends them through voice sms to Sunil Saxena at Noida. The institute then broadcasts the news using auto dialler system to the 250 odd subscribers, who pay just Rs 10 per month. The bulletin is broadcast daily at 8 pm and if there is further development Priya again sends the feed which is then relayed next day at 9 am.

Priya is enjoying her job. "Earlier it looked somewhat odd, collecting news and other things. But now I like it and it has developed as my hobby. TV anchor Priya Dutt is my idol and I want to grow up like her," she says.

Satyendra is also all praise for Priya. "She has performed beyond our expectations," he says and adds that they have one more reporter, Divyanker, who is a school teacher.

Satyendra, who is exploring the possibility of expanding the mobile news service to other areas, says the medium has great potential. "Every household has at least one mobile even if they may not be subscribing to any newspaper," he says. The news service has been getting advertisements from local shops, like the local tractor dealer and the local tailor.

However, Satyendra says the financial viability will improve only if more advertisers come on board. "We spend Rs 1.20 per call to a subscriber, but we are charging only Rs 10 per month," he says, adding that there are many more Priyas in villages who can make their mark in mobile journalism.

Trending Now: