A Bihari youth gets called to meet the US President

Kavita Kanan Chandra
&nbsp | &nbsp Mumbai
19-November-2010
Vol 1&nbsp|&nbspIssue 12
"I am a diehard entrepreneur and crazy about what I do. My work is just not a passion but an obsession," says Irfan Alam, the young entrepreneur from Bihar who has impressed none other than the President of USA, Barack Obama. With an innovative business model to make a profitable venture out of one of India's most unorganized sector of cycle-rickshaws, Irfan not only met with thumping success in just a span of three years but uplifted a large chunk of the marginalized section of the society.

Coming from Bihar, a state hardly known for its entrepreneurship, it was great opportunity and moment of pride for Irfan when he was invited for the Entrepreneurship Summit called by President Obama in Washington DC in April.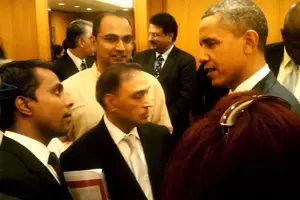 Irfan Alam's (left) Foundation has implemented innovative strategies benefiting the lives of over 5 lakh rickshaw-pullers
Later when Obama was in Mumbai in November, Irfan was part of a select group of entrepreneurs with innovative business models who met him. Recalling his two meetings with Obama, Irfan could barely hold his excitement. He felt on top of the world to get so much recognition, he says.

Irfan had risen in life without any money support, family business, or a godfather. He made it through sheer diligence and business acumen. "I was very young in 1992 when my father lost all his hard earned money in the stock market during the Harshad Mehta scam," says Irfan, now in his late twenties. But instead of having an aversion to stock market, he showed an enterprising streak at thirteen by starting to trade in stocks. "By 14 I started Matin's Enterprises, a marketing & stock broking firm," he says.

Coming from a modest background and growing up in a large family of seven children, Irfan was educated in a government school and later studied in a college at Begusarai, a small town in Bihar. After his college studies, he did a short term entrepreneurship management development programme from IIM-Ahmedabad.

Irfan, who extensively travelled outside Bihar, found that almost 60 percent of the rickshaw-pullers in India were Biharis and despite their hard labour they survived on bare minimum resources. 95 percent rickshaw-pullers did not even have their own rickshaws. He felt a little support and guidance could transform this unorganised sector into a profitable venture.

Set up in 2007, his organization Sammaan Foundation – Sammaan literally means respect - tried to bring some respect into the lives of rickshaw-pullers. They arranged for finances for them, helped them procure bank loans, and tried to maximize their profits by advertising and brand promotion.

This was a good proposition for advertisers as it was cheap and their advertisements could penetrate residential streets, semi-rural and rural areas. Rickshaws were designed in a way that they had ample space for displays and also came with a basket in the front to hold newspapers, mineral water, fruit juices and snacks for sale.

The Foundation and rickshaw-pullers shared revenues from advertisement and sales fifty-fifty. Notwithstanding people's scepticism, Irfan's business model worked to the benefit of over 5 lakh rickshaw-pullers in the states of Bihar, Jharkhand, UP, Delhi, MP, Punjab and Haryana.

Next in Irfan's plans are low cost housing for rickshaw-pullers and making public offer by 2012. The rickshaw-pullers already have a savings bank account, and free accidental insurance up to Rs 1 lakh.

Trending Now: