Art of making 'non-violent' silk saris

Rama Devi Menon
&nbsp | &nbsp Hyderabad
29-October-2010
Vol 1&nbsp|&nbspIssue 9
A traditional silk sari is part of a woman's life. But weaving a single six-yard splendor involves taking the life out of 10,000 silkworms. Breaking from that traditional method of extracting silk, Kusuma Rajaiah, a senior technical officer with Andhra Pradesh State Handloom Weavers Cooperative Society Ltd (APCO) found a way out: No loss of life, yet gleaming silk.

It all started with a general query from Janaki Venkatraman, wife of former Indian President Venkatraman, during her visit to Hyderabad in 1990 as to whether APCO made silk saris without killing silkworms.

That prompted Rajaiah to experiment with a process for the production of silk that did not entail the killing of silkworms. The life cycle of a silkworm (Bombyx mori) does not last for more than a couple of months and it has the usual four stages – eggs, caterpillar, cocoon and adult moth. The adult moth, which has been completely domesticated for ages, has lost its ability to fly high or live in the wild.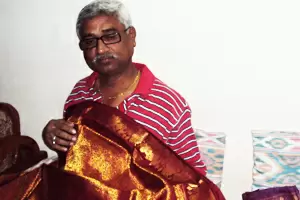 Silk sulk: there is little awareness regarding the inhuman method used to produce silk garments
The caterpillars of silkworm feed on mulberry leaves for up to four weeks, growing in size by almost 10,000 times, before they begin secreting a viscous liquid from their glands, which is a combination of fibroin (silk) and sericin (gum). They form a white cocoon around themselves and it is at this stage that they are dropped into boiling water (with the caterpillar still inside them) to make conventional silk. However, Rajaiah decided to wait for a week until the caterpillar metamorphosed into a moth and flew away from the cocoon before extracting the silk filament.

Although the cocoon is now damaged by the adult moth that has made a hole on the surface, and yields much less silk, Rajaiah has no regrets. "God made all creatures. Several people criticized my method of silk extraction. They believe that it is no big deal to kill the caterpillar since the moth survives for just about a week after coming out of the cocoon. But I feel, all creatures have the right to live their lives to the fullest. Will a man agree if his life is cut short by a week?" he asks.

"The damaged cocoon does not yield a continuous silk thread and it has to be spun again by machines and it takes almost two months for the final product, that too after incurring a heavy loss of silk," says Rajaiah. The final product is also twice as expensive as the product made by conventional methods, he adds.

In 2002, Rajaiah received the patent for "Ahimsa Silk" from the Patent Office of the Government of India. Rajaiah, who creates his own designs, uses eco-friendly vegetable dyes. Ahimsa International of New Delhi conferred an award on Rajaiah in 2008 for his humane approach toward silk production. Rajaiah also received the "Shining World Compassion Award" from the Supreme Master Ching Hai International of Taiwan the same year.

Although animal rights activists across the globe have been persuading people to shun products such as leather made from animal skin, there is little awareness regarding the inhuman method used to produce silk garments.

Trending Now: