A resort that balances modern comforts with environmental protection

Neha Ghosh
&nbsp | &nbsp Mumbai
01-October-2010
Vol 1&nbsp|&nbspIssue 5
It was originally planned as a getaway for former navy captain Mohan Chabba, whose love for nature dates back to his childhood when he dreamt of living like Tarzan in the jungles. "I love nature so much that when I quit my regular job, I put all my savings into creating a personal space for myself," says Chabba. But then, he wanted other people to experience the wonders of nature and converted it into a resort, giving it the name Captans.

"Yoga, meditation, Tai Chi, discussions on Vedanta, are some of the things that I can indulge myself with here regularly and I want my guests to do the same," says Chabba. Captans is located in the ex-British colonial town of Lonavala, Maharashtra. It is one resort that sets an example for others on how to be eco-friendly. Built in 2005, Captans is in the middle of a two and a half acre of thriving greenery, 2500 feet above sea level - a lone property resting on top of a mountain with nothing around for miles, except for dense green forests, the Tungarli Lake and an eerie silence. It has a swimming pool, jacuzzi, sauna, and a steam room among other facilities.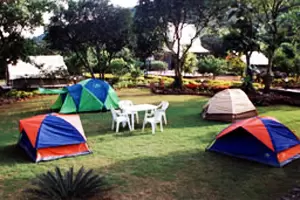 Captans: world at its best, all serene and tranquil
The secluded wooden cabins have no television and are surrounded by lush trees and plants. (A closer inspection reveals that the wood used to build the cabins is licensed for logging.) All rain and lodge water is collected and re-used. The add-ons inside the rooms such as towels and bed sheets are one hundred percent cotton and changed only after every 3 days. Low voltage lights are used and the bathrooms have the option of half-flush to prevent wastage of water. The toilet waste is used as manure and use of any form of plastic product is strictly prohibited and the food is vegetarian.

Mohan Chabba, sipping tea in the common room, says that the resort was built without cutting a single tree. Is it possible to build a resort made of wooden cabins without cutting tress? He puts it simply. "The area of which Captans is built was a clear patch of land. But yes, barks of trees were used to make the lodges. But I have ensured that I have given it back to nature by planting 700 teak and more than 1000 varieties of fauna. Just like in life, balance in nature is also crucial," he adds.

"I am not a greedy man," Chabba says causally, adding: "And I don't try to be eco-friendly to sound cool or gain some publicity. I respect nature and I want my visitors to do the same," he says.

Situated 100 km from Mumbai and four km from Lonavla bus station, the ghats around Captans can offer a lucky visitor glimpses of wildlife such as the giant Indian squirrel or the leopard or the Great Pied Hornbill. But the balmy weather, the tranquillity and the lush greenery can really rejuvenate any urban mind and body overcome by tedium and fatigue.

Trending Now: