Learning more skills is a passion for this man

Renitha Raveendran
&nbsp | &nbsp Kozhikode
24-September-2010
Vol 1&nbsp|&nbspIssue 4
Rubber tapping, construction work, tailoring, white washing, cookery and climbing coconut and areca nut trees. These are just few of the 20 jobs that 41-year-old Rajeevan can do or has done. In 18 years, ever since he was forced to take up his first job in a garage, forgoing his seat in college, due to financial difficulties at home, Rajeevan has been switching jobs and learning more skills and crafts in the process.

So it is only natural that he is a much sought after man in his Edachery village in Kerala's Kozhikode district. As a man of many trades, he is perhaps the most employable man around for the villagers. "Each job gives me a different high," says Rajeevan passionately.

But the tale of the man's experiments with different jobs began at the age of 15 when he was unable to pursue his studies in 1982. After completing his tenth standard board examination when most of his classmates either went for higher studies or waited for a government job to happen, Rajeevan joined an automobile workshop. "I had got admission for pre-degree (plus two) science group at Mattanoor Government College in Kannur back then. But due to financial constraints I had to opt out of studies," he says.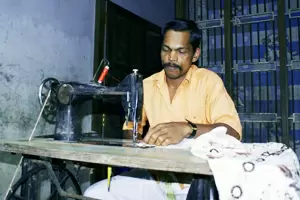 Rajeevan is living life to the hilt – doing every job that comes his way Photo by Sathyan Punathil
After working in the automobile shop for some months, he left for Wayanad to work as a baker. It was from here that he learnt rubber tapping. His hard work took him to a renowned hotel in Chennai where he worked for three years. During this time he missed an interview call from Kerala State Electricity Board. "At that time I regretted missing the opportunity, but, now I am happy with whatever I do," he says.

Among the other jobs he is proficient in are: driving, electric wiring, plumbing, maintenance of vehicles, fish net making, making bamboo products, ploughing, baking, stone cutting, painting, repairing of electronic goods, making showcase items, carpentry and farming. "It's not very difficult to learn new jobs. You only need to have the interest. You don't even need a teacher provided you are a keen observer of your surroundings. " But for learning tailoring from his uncle and making fish net and bamboo articles from his father, he picked every other skill on his own.

Of late he has been into construction work. A day's work fetches him Rs 450. However, out of all the jobs he does, cooking is the one he enjoys the most. It also pays well - for a function like marriage he is paid around Rs 3,000 to 4,000. Occasionally, he also drives the autorickshaw, which is less lucrative.

Rajeevan had never been out of job and says he can run the family of six fairly well and even save some money at the end of the month. The family includes his mother Janaki, wife Leela and children Lidya, Lijesh and Linya. "He always engages himself in some work or the other. He never sits idle. When he is not doing any job, which is rare, he experiments with various dishes at home," says his wife Leela.

So, in his lexicon there is no word called unemployment.

Trending Now: