Turning old shoes into trendy footwear, Mumbai youth set up eco-friendly venture with super low carbon footprint

Somma Banerjjee
&nbsp | &nbsp Mumbai
25-November-2016
Vol 7&nbsp|&nbspIssue 48
When the uppers of your expensive sports shoes get worn out, what do you do with that old pair? You either discard them or give it to someone needy, isn't it?
But if you give them to GreenSole, a Mumbai based company founded by Shriyans Bhandari, 21, and Ramesh Dhami, 23, they would refurbish it into trendy and colourful slippers, which would either be sold online or donated to some poor person in the country.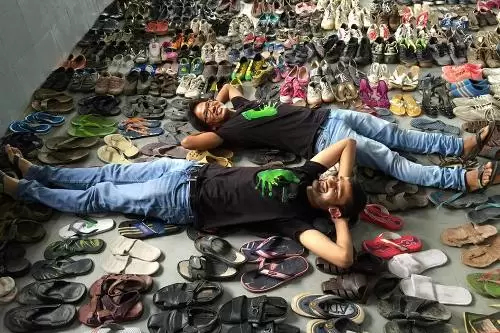 The founders of GreenSole, Shriyans Bhandari and Ramesh Dhami came to know each other while training under Savio D'Souza, a former national marathon champion (Photos Courtesy: GreenSole)

Established in 2014, the company has already donated 25,000 pairs of refurbished footwear to the needy across Maharashtra and Gujarat.
GreenSole receives around 1,000 to 1,200 pairs of old footwear from different parts of the country every month.
A bulk of its refurbished footwear is donated to poor people with the help of corporates like Axis Bank, Indiabulls, Tata Power and DTDC, who pay a sum of Rs. 200 to the company for every pair of donated chappals.
Three months ago the company started selling some of its products online for profit and has grossed Rs 5 lakh from the online sales.
The promoters are excited. "The chappals are priced between Rs 500 and Rs 1500. We keep a profit margin of 10 to 20 per cent on these products," says Shriyans, CEO and co-founder of GreenSole.
By upcycling the old non-biodegradable shoes into new footwear, the start-up is estimated to have saved the environment from 45000 pounds of CO2 emissions by preventing the old shoes from going to landfill or being recycled through other processes that produces carbon emission of up to 30 pounds per pair of shoes.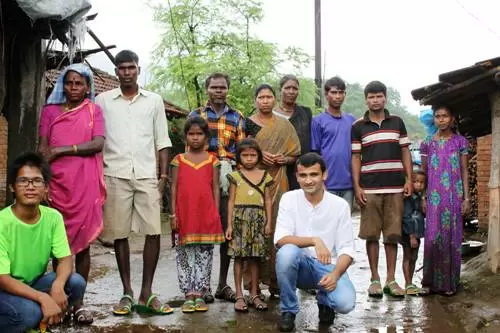 Around 25,000 pairs of GreenSole sandals have been distributed to poor people across Maharashtra and Gujarat

Shriyans and Ramesh, GreenSole's other co-founder, hail from contrasting backgrounds. But it was their love for running that united them.
While Shriyans belongs to a well-to-do family in Udaipur, Rajasthan, Ramesh was a run-away kid from the mountains of Kumaun, Garhwal, who made Mumbai his home at a young age of 12.
The two met on the grounds of Priyadarshini Park at Nepean Sea Road, Mumbai, while training under Savio D'Souza – a former national marathon champion.
Shriyans, who came to Mumbai in 2012 to study Bachelor of Management Studies at Jai Hind College, has run more than 100 long distance races in India and abroad.
A bird lover, he has also authored a coffee table book "Birds of Aravalli" in association with Rajasthan Tourism Department.
Ramesh, on the other hand, with no formal education, grew up on the streets of Mumbai juggling all the mean tricks for a survival.
He was taken under the care of a NGO called 'Saathi' which helped him with food, a de-addiction programme and psycho-behavioural counselling. Later, Ramesh developed an interest in running and took part in several competitions and won prizes.
It was while training under Savio that Shriyans and Ramesh got the idea of refurbishing their expensive running shoes. Ramesh was working as an assistant to Savio for a salary of Rs 4,500 per month in that period.
"Once, I bought an expensive pair of imported running shoes with my savings from my small income. But it got torn in four months.

"I tried to refurbish the top part of the shoe with my old Adidas T shirt, but it didn't last long. I then converted it into a chappal by retaining the soles.
"That's when I realised that old shoes can be refurbished into a new pair of sandals or chappals," says Ramesh.
"Ramesh and I, being athletes, used to discard three to four pairs of expensive shoes each year. When Ramesh discussed the idea of refurbishing them, I too got interested in it and that's how the idea of GreenSole germinated," adds Shriyans.
It took the shape of a social business model after Shriyans understood the potential behind the innovation.
In 2014, Shriyans and Ramesh won a B-plan competition conducted by Jai Hind College, Mumbai and National Entrepreneurship Network (NEN) for their novel idea.
Encouraged by this, both researched on shoe manufacturing, upgraded their prototype and fine-tuned the business model.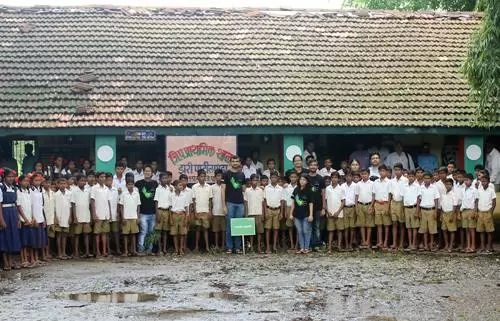 GreenSole founders with children of a government school during a donation drive

They found that around 35 crore pairs of non-biodegradable shoes are discarded every year worldwide and 1.5 billion people in the world currently do not have any footwear and millions of them suffer from various diseases contracted through unprotected feet.
Shriyans and Ramesh conceived a business model to help the underprivileged with footwear and also save the environment from carbon emissions.
They showcased their business model in few other competitions including one at IIT Bombay and won prizes.
With the prize money of Rs 5 lakh from the various competitions they had won, a few lakhs from Shriyans' family and some donations from crowd funding they raised about Rs 10 lakh to launch GreenSole as a private limited company.
To find people to refurbish old and used shoes, the duo approached the traditional footwear makers in the Thakkar Bappa Colony in Kurla East, Mumbai.
In 2014, they operated from a rented 500 square feet house of one of the footwear makers in Thakkar Bhappa colony with five workers.
Gradually, GreenSole started getting funds and mentoring support to further expand.
Meanwhile, Shriyans went to Babson College in the US to do his Masters in Entrepreneurial Leadership, a subject close to his heart.
After his return, the co-founders started visiting established shoe manufacturing companies to learn the advanced technicalities of producing quality footwear.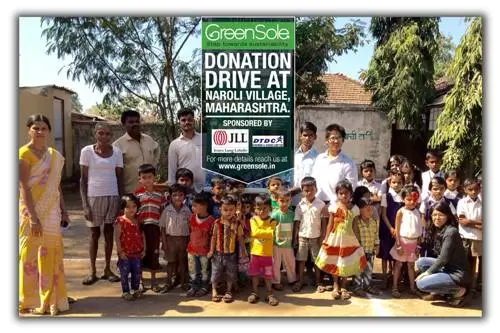 Happy moment: Donees wearing their new GreenSole sandals pose for a photo

They tied up with Navi Mumbai-based Ram Fashion Exports, a manufacturer and exporter of shoes and other items such as bags, jackets, accessories etc. for design, manufacturing and finance management support.
GreenSole has tie-ups with schools, sports clubs, and organisations who provide them with discarded shoes. They purchase recycled ropes from suppliers to make the upper part of the chappals.
They have placed drop boxes at public places in Mumbai, Ajmer and Siliguri, where people can donate their old shoes. One can also courier the old shoes to them.
The discarded shoes go through a cleaning process before getting a new look at GreenSole's unit.
Shriyans and Ramesh are continuously striving towards their goal of providing footwear to the needy and underprivileged across the globe and becoming self-sustainable in the long run.
Their aim is to cover the entire country first and then expand globally. "Our focus outside India is to set up a refurbishing unit in Kenya, Africa next," says Ramesh.
Wish to share your story?
Trending Now: