Your friendly neighbourhood trains might soon be a reality in India

Narendra Kaushik
&nbsp | &nbsp New Delhi
17-September-2016
Vol 7&nbsp|&nbspIssue 38
If Ashwani Kumar Upadhyaya has his way you will soon have trains picking you up either right from your doorstep or from a block near your neighbourhood for your office.
Upadhyaya, a Civil Engineer from Indian Institute of Technology (IIT) Delhi, along with Emil Jacob, a research associate at Massachusetts Institute of Technology (MIT), has designed a Caterpillar Train (or C-Train) which can run on narrow tracks over busy streets propped up by poles bent into arches.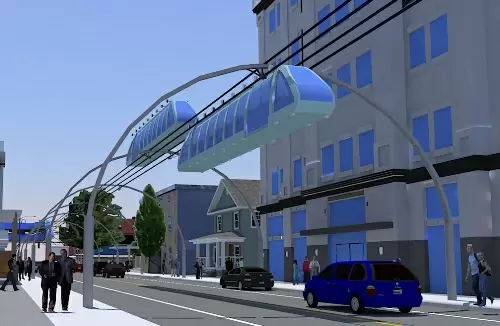 An illustrative image of C-Train (Photos: By special arrangement)
Last month, their design won a global competition at MIT triumphing over 500 entries from across the world at the Climate CoLab contest.
The duo has applied for a world patent on their innovation and is expecting a decision by February next year.
According to Upadhyaya, a 1997-batch officer of Indian Railway Traffic Service (IRTS), now serving as General Manager (Operations), in Centre for Railway Information Systems, an autonomous body under the Ministry of Railways, the driverless, noiseless, pollution-free electric train will cost about one tenth of the elevated metro and one fifteenth of the underground metro.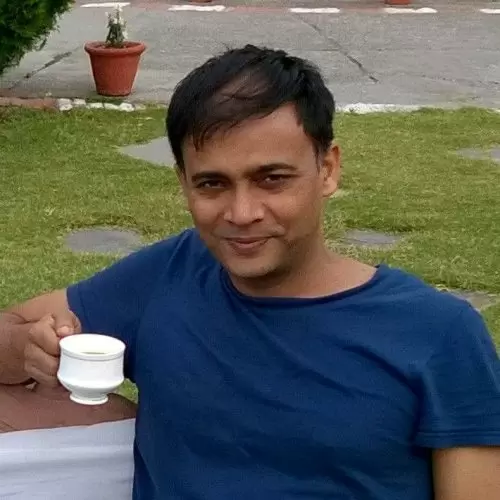 Upadhyaya works as a General Manager in Centre for Railway Information Systems
It will also be considerably cheaper than monorails or Sky Train pods. "At the cost of 100 metre of metro, we can develop a 1500 km grid for the C-Train," informs Upadhyaya.

Unlike the conventional trains that carry hundreds of commuters, only around 24 passengers can travel on the 12-metre long C-Train, which would run on narrow tracks suspended on top of busy streets and roads at 10 to 15 second intervals, thereby compensating for the lesser capacity with more trips.

The train and the tracks have been designed to be installed in streets which are as narrow as five metres wide.

What more, the chances of seeing the C-Train first in India is quite bright.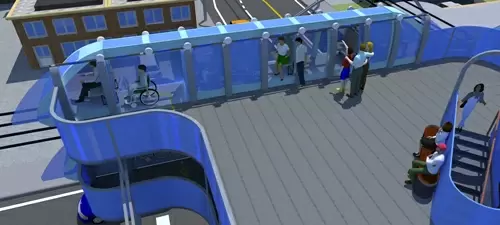 C Trains are designed for quick entry and exit of passengers
"We are trying to get appointments from Andhra Pradesh (for Amravati) and Niti Aayog (Policy Commission) to make presentations. Once we are able to develop a pilot there will be no stopping for us," says Upadhyaya, who serves as General Manager (Operations), in Centre for Railway Information Systems (CRIS), an autonomous organisation under the Ministry of Railways.

Unlike traditional rail coaches that weigh over 100 tonnes each and are designed to cater to standing as well as sitting passengers, the lightweight C-Train that weighs not more than three tonnes will only have about a dozen sitting-only cars accommodating at the most 24 passengers.

Pillars erected on sides of the road would support the arches on which the tracks would be set up. The pillars can also be used for putting up the street lights, says Upadhyaya.

Unlike Germany's Wuppertal Suspension Railway where twin coach trains run under the tracks, Caterpillar will have trains running under as well as above the tracks.
The C-Train will have rubber wheels both on top and bottom, enabling it to run over the tracks and hanging on it – giving it the look of a caterpillar.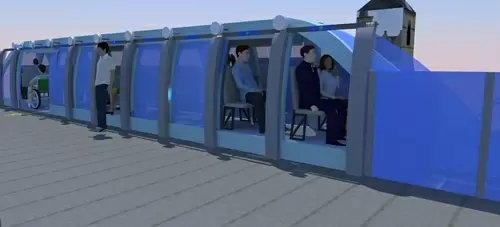 Each C-Train car can accommodate two persons

Upadhyaya says he has already presented his design to Railway Minister Suresh Prabhu.

The innovation was part of his doctoral research at Singapore-MIT Alliance for Research and Technology (SMART), a major research enterprise established by MIT where Upadhyaya and Jacob worked on a specific area called 'future urban mobility'.

Caterpillar train, Upadhyaya believes, could hold the keys to solution of last mile connectivity in Asian countries where jobs and populations are dispersed.

The C-Train network will use air space optimally and trains will be parked in vertical depots.

Each train will have one car that can be used both for wheel chairs and regular seating. In order to minimise the wait time in each station the C-Train is designed for easy entry and exit.

By having the station platform lower by one step below the floor of the train, (similar to an SUV), passengers can enter and exit the train quickly.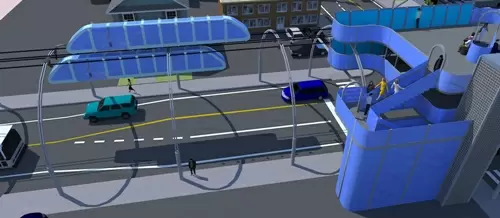 C-Trains can run in narrow streets of five metres width

Upadhyaya notes that the train would stop at a station only if it has seating space available: "In one minute, we can transport 100 people through the C-Train."

Their website further states: "The last mile issue would be mostly eliminated as the cTrain will typically be available at the end of most side streets as it would travel over all major avenues.

"The cTrain is estimated to cost a fraction of what it takes to operate a bus. The cost of a typical transit bus is about $300k.

"A cTrain is estimated to cost no more than an average car (about $30k). Energy costs for buses are highly inefficient as they often travel with only a few passengers, except during rush hours.

"And lastly the cTrains are self driven, noise free, and pollution free. They require very little energy; each train would need the energy of about 3 golf carts (four-seat golf carts)."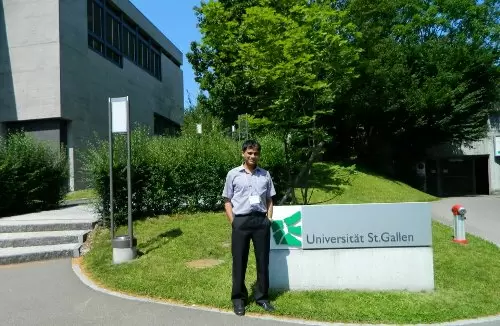 Upadhyaya is hoping to see the pilot run of C-Train soon

Upadhyaya, 42, hails from a family where there was always a premium on higher education. Originally from Hathras, UP, his family moved to Faridabad, Haryana, where they have lived for over half a century.

His father was a school principal while his two younger brothers and an elder sister hold doctorates in different subjects. His wife Archana Sharma is a medical doctor.
Wish to share your story?
Trending Now: