Herbal puffs can drag smokers away from tobacco cigarettes, claims herbal cigarette maker

P C Vinoj Kumar
&nbsp | &nbsp Coimbatore
17-September-2010
Vol 1&nbsp|&nbspIssue 3
As 43-year-old S Radhakrishnan holds up a cigarette and starts explaining its healing and medicinal properties, one could only stare at him in disbelief. The cigarette he is holding in his hand is not the usual kind available in stores. This one is special – an herbal, 100 percent tobacco free cigarette! If the cigarette has the properties that Radhakrishnan claims it has, it could be the panacea smokers wanting to kick the habit have been seeking.

Herbal cigarettes may not be new to the world. Wikipedia lists about twenty such brands, but none of them seem to be popular among Indian smokers. L Prema, a psychologist at the tobacco resource centre in Adyar Cancer Institute, Chennai, told The Weekend Leader, "Nicotine gums are available in the market, which we recommend to people who want to quit smoking. But as far as I know, there is nothing like an herbal cigarette available in India."

According to Radhakrishan, a Coimbatore based psychologist, who is also an emerging motivational speaker at schools and corporate institutions, the herbal cigarette is a far less harmful substitute to tobacco cigarettes. "I am not claiming it is hundred percent safe, but I can assure you it's far better than a tobacco stuffed cigarette," he says.

A small room adjoining his house is the "factory" where herbal cigarettes are made by two women employees using a tiny imported machine. Twelve ingredients including pepper, ginger, and turmeric are used in the cigarettes. The cigarettes are put inside attractive packets carrying the brand name, HOPE.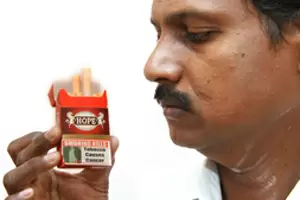 HOPE: less injurious to health?

Launched first in 2000, the cigarettes were sold at a couple of places in Coimbatore including the popular Nilgiris Departmental Stores. "I used to have loyal customers, though we made only a few hundred packets a month. Even doctors recommended it to their patients who wanted to quit smoking. Some managed to quit also," says Radhakrishnan.

Production was stopped three years ago. The product was re-launched a couple of weeks ago with plans to expand the business slowly. Dr S Arivazhagan, a diabetologist, practicing in Coimbatore told The Weekend Leader that some of his patients reported increased appetite and a better sleeping pattern after using the cigarettes.

According to Radhakirshnan, the Indian Tobacco Research Institute at Rajmundry had endorsed the sample of ingredients used in his herbal cigarettes as tobacco free. One of his brands, though, has thirty percent tobacco content in it. "It is for those who would find it too difficult to quit tobacco all of a sudden," he says.

Prices of the herbal cigarettes are on par with leading tobacco brands in the country.

Anti-smoking campaigners though are restrained while commenting on the herbal cigarette. Prema at Adyar Cancer Institute feels a scientific study on the effects of the herbal cigarette on smokers could reveal more details.

Trending Now: