An innovation that lives up to the ideas of 'Make in India' and 'Swachh Bharat'

Kavita Kanan Chandra
&nbsp | &nbsp Vadodara
23-July-2016
Vol 7&nbsp|&nbspIssue 30
A simple eco-friendly low-cost incinerator developed for disposing of sanitary napkins by Shyamsunder Bedekar, 54, from Gujarat is transforming women's lives in rural and semi-urban areas, with 1,800 units already sold in four years. 450 units a year may be deemed slow financially, but in social terms it is a revolution.
Shyamsunder's remarkably simple terracotta incinerator, named Ashuddhinashak (Destroyer of Impurities), looks like an ordinary urn. But it is symbolic of women's hygiene and sanitation, which get short shrift in rural and semi-urban areas in India.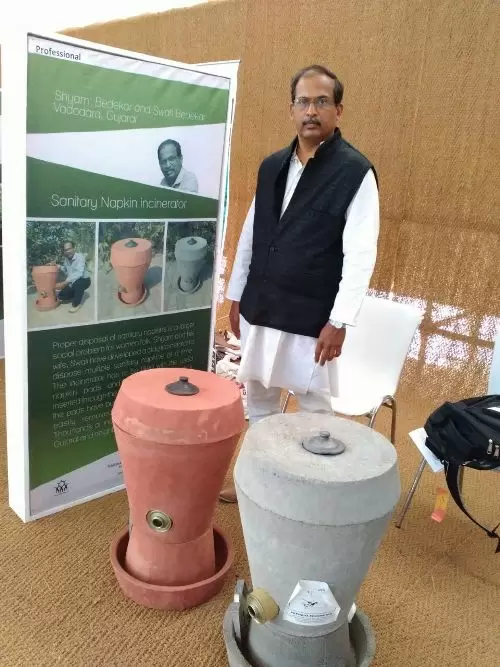 Ashuddhinashak burns the soiled napkins into ash without emitting a foul smell. Shyamsunder Bedekar is seen with his innovation

The cost of the incinerator is Rs 2,000, nearly 10 times less than its closest alternative - the electric incinerator available at between Rs 18,000-20,000.
It is commendable that this innovation for women was thought of by a man. When Shyamsunder first exhibited the terracotta incinerator at the Festival of Innovations in March 2015 at the Rashtrapati Bhawan in Delhi on invitation by the National Innovation Foundation (NIF), it was received by both surprise and applause.
Urban Development Minister Venkaiah Naidu saw the Ashudhhinashak and invited Shyamsunder for an international conference at Delhi to mark the 85th anniversary of Gandhiji's Dandi March.
"My effort was appreciated as it fulfilled both 'Make in India' and the 'Swachh Bharat Abhiyan' (Clean India Mission) as envisaged by Mahatma Gandhi," says Shyamsunder.
Being inspired by Gandhiji is perhaps natural for Shyamsunder, who was born and brought up in Vadodara, in Gandhi's birth State, Gujarat.
This graduate in Chemistry and post-graduate in Textile Chemistry from M.S. University, Vadodara, owns a dyestuff business. But he has ventured way beyond commercial interests.
Charity for him began at home. Shyamsunder's wife Swati Bedekar was working in education in rural areas. As Proprietor of S.M. Graphics Educational Kits, she herself studied at D.G. Ruparel College, Mumbai, and works in education management. She is into teaching, teacher training, Maths and Science education, curriculum and skill development for toddlers and young children, as well as manufacturing educational aids and toys.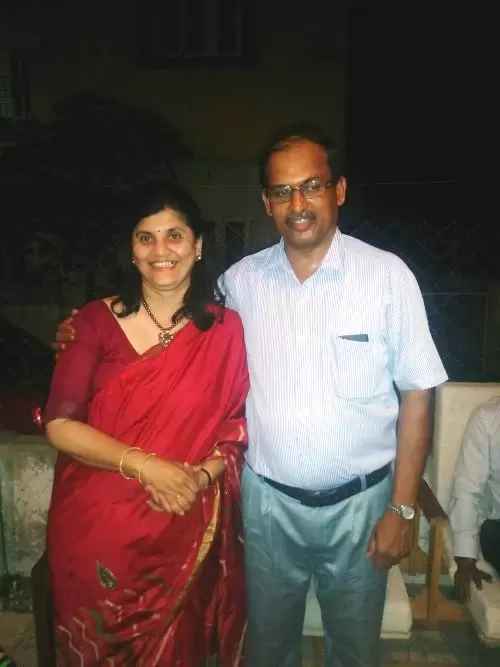 Shyamsunder and his wife Swati create awareness among rural women about using sanitary napkins through their NGO, Vatsalaya Foundation

While working in Dahod, 138 km kilometres from Vadodara, she found girl students dropping out of school on attaining puberty – a common feature in Indian villages – one of the major issues being the lack of proper sanitary care during menstruation.
Swati and Shyamsunder founded an NGO – Vatsalaya Foundation – in May 2010 and struggled to create awareness among rural women about using sanitary napkins. Shyamsunder developed low-cost sanitary napkins, branded 'Sakhi', priced at mere Rs 2.50 per unit, and modified and designed machines to make them.
The same year, with the help of the District Rural Development Agency (DRDA) they set up a manufacturing unit in Devgarh Baria village in Dahod district to employ rural women there. Now there are 25 manufacturing units in the vicinity of Vadodara, and most have become self-sustainable.
However, while everyone appreciated the affordability and access to this hygienic option, the Bedekar couple had to contend with another problem. Unlike urban areas, there was no garbage disposal system in villages and women found it difficult to dispose of the used pads. The duo came to the conclusion that burning would be the best option.
Necessity proved once again to be the mother of invention and in 2012, he made Ashuddhinashak. It could be easily made by potters and would burn the soiled napkins into ash without emitting a foul smell. It was also low cost, eco-friendly, had negligible running cost and could be operated without electricity.
The earthen-pot incinerator has a lidded inlet on top to throw the napkin in and one below to light a fire. Ashuddhinashak has an upper accumulation chamber that can accommodate up to 20 napkins at a time on a wire mesh.
Below the mesh, there is another hole through which fire is lit using paper. 85 percent of the Sakhi napkin is organic matter. So, the ash from the incinerator can be used as fertilizer. Even sanitary napkins of other brands burn well enough in the Ashuddhinashak.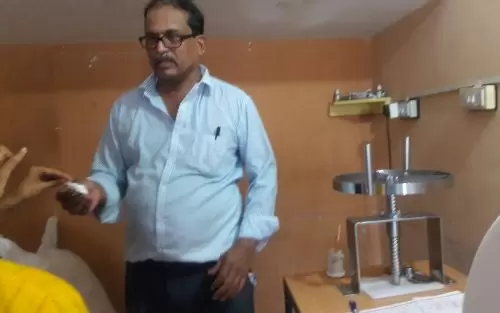 Shyamsunder owns a dyestuff business in Vadodara, but he is focused more in promoting women's hygiene and sanitation these days


Anita Chauhan, who instructs rural women on how to use the incinerator made by Bedekar and is the supervisor of five Sakhi manufacturing units, reveals how this innovation has changed the life of a teenage girl from Manjusar village, 21 km from Vadodara in Gujarat.
The girl was routinely absent from school during her periods. The 'Sakhi' sanitary napkin was a big relief, but again, there was the problem of disposal. She had to burn it or dig a hole and bury it when no one was looking.
With the Ashuddhinashak incinerator now placed in her school, she has all the more reason to attend school now every day of the month.
This story is replicated in more than a hundred villages that Anita has toured. "We place the incinerators in places where usually only women frequent," says Anita, "like the lakeside where they go to wash clothes, near community taps/wells from where they fetch water, and in schools near the ladies' washroom."
Just recently, Shyamsunder sent out 75 Ashuddhinashak units to Nashik for the girls' schools and hostels under the Maharashtra Tribal Development department.
The Sarva Shiksha Abhiyan has installed 500 units in 500 Government schools in Gujarat. Darshana Satar, Gender Officer, Sarva Shiksha Abhiyan, Gujarat, says there are 109 Kasturba Gandhi Balika Vidyalaya Residential Schools in Gujarat and they have placed at least one or two terracotta incinerators in each.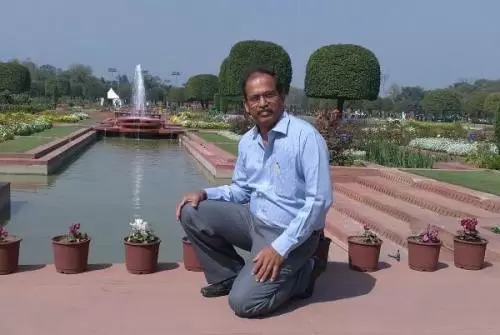 Shyamsunder's incinerators are even being sent to South Indian cities like Mangalore, Bengaluru and Chennai

To prevent breakage, Shyamsunder makes incinerators to be sent outstation in concrete with reinforced steel bars, with each unit priced at Rs 3,000 (basic cost of Rs 2,000 plus sales tax, packing charges and transportation anywhere in India by Railway parcel service). Many of these incinerators have been sent to Jaipur, Pune and as far as Mangalore, Bengaluru and Chennai.

The Destroyer of Impurities incinerator has blazed a trail destroying in its wake lack of hygiene and old-age taboos imposed on girls and women.
Wish to share your story?
Trending Now: