Around 25,000 people across the globe have downloaded the technique of making eco-cooler
G Singh
&nbsp | &nbsp Kolkata
11-June-2016
Vol 7&nbsp|&nbspIssue 24
It could well be the poor man's air conditioner. A cooling device that runs without electricity is providing relief to several hundreds of poor families in Bangladesh.
Grey Dhaka, the Bangladesh wing of New York-based advertising agency Grey, in collaboration with Grameen Intel Social Business Limited (a Dhaka-based IT company), has developed 'Eco-Cooler', a device that has come as a gift to the rural poor in Bangladesh who suffer from power outages during the summer season when the mercury climbs to 45 degree Celsius.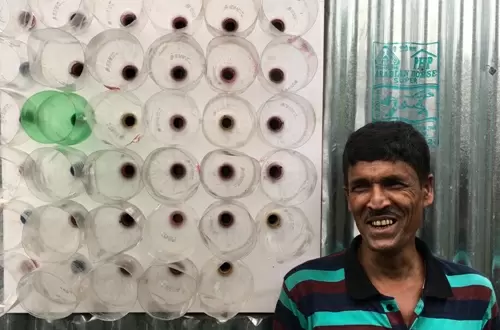 A man beaming with joy on getting an Eco Cooler installed in his shanty

A brainchild of Ashis Paul, the creative supervisor at Grey Dhaka, the window-fitted device that is made of recycled plastic bottles brings down the temperature of a room where it is installed by five degree Celsius.
"The idea of Eco-cooler came to my mind after I overheard a lecture on physics by my son's home tutor on gas pressures and the effects of temperature in 2014. I then began to design a cooler that would run without electricity as most of the country suffers from power outages," said Ashis.
He did his experiments using different types of recycled plastic bottles before finally coming up with the prototype in 2015.
Explaining the technique, Ashis said that the Eco-cooler uses a process called Adiabatic Cooling which is the method of reducing heat through a change in air pressure caused by volume expansion.
The repurposed two-litre plastic bottles cut in half and arranged in grids provide an ideal inflow of air for the cooling effect to take place.
In order to be sure about the invention and its benefits, Ashis along with his team did an experiment for seven days.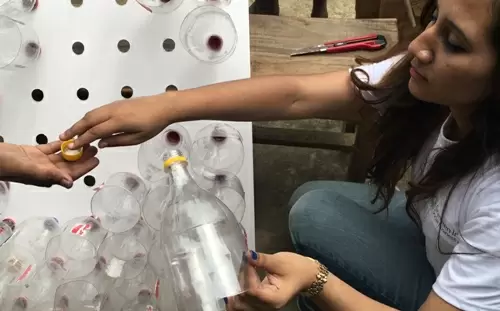 Volunteers setting up the device that is made up of a plastic board and repurposed PET bottles

Ashis says Bangladesh was chosen for eco-coolers because the major portion of the country's population lives in tin huts, which become heated like ovens during summers.
The device has been successfully installed in the villages of Nilphamari, Daulatdia,Paturia, Modonhati and Khaleya where highest temperatures are recorded during the summer season.
Grey Dhaka has claimed that around 25,000 people across the globe have successfully downloaded the technique of making eco-cooler from the Internet. It has no plans of commercializing the process as it has been invented to benefit the poor who cannot afford air-conditioners.
In fact, the volunteering employees of Grameen-Intel Social Business Ltd. (GISBL) are setting up and showing people how to set up eco-coolers across rural Bangladesh.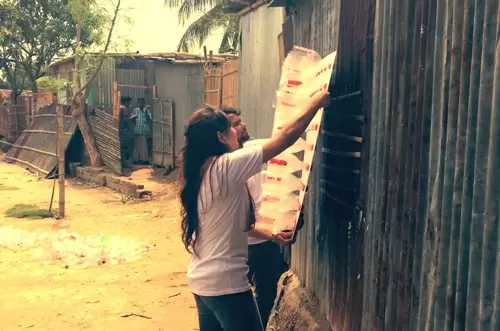 An eco cooler is being installed in a shanty

Jaiyyanul Huq, Creative Director, Grey Dhaka, said, "Eco-coolers are becoming very popular because of the sustainable nature of the idea."
He urged the people living in the sub-continent and especially in developing countries to take up the idea and spread it among the rural people to help them live comfortably.
The best thing about eco-coolers is that it is made up of just plastic boards and PET bottles, and one could make a device for as little as Rs.500.

Trending Now: