Devising what even the Chinese have not done

Afsana Rashid
&nbsp | &nbsp Srinagar
03-September-2010
Vol 1&nbsp|&nbspIssue 1
One of his innovations is all set to revive the walnut industry in Kashmir. But that has not stopped Mushtaq Ahmad Dar from designing more devices. His basic design for the walnut cracker was found acceptable by the Science Instrumentation Centre of Kashmir University, which helped him develop a proper machine.

Born in an economically weak family in Kreeri village of Dooru-Shahabad in south Kashmir's Anantnag district, Dar lost his father when he was in the tenth class and joined the family's walnut business.

Manually cracking walnuts is a tedious, time-consuming, cumbersome task. One day while breaking walnuts, the idea of devising the cracker struck him. But signs of creative genius had been observed even when Dar was a child. He used to make wooden toys to decorate his house and carved a electro-mechanical sculpture of Gandhiji working on the Charkha when he was in the eighth class.

A friend took him to Ahmedabad for the National Institute of Fashion's third national innovation award function in 2005 when Dar was intrigued to see and meet so many people from different parts of the country, who were not trained or aided but had solved various problems by their own effort and hard work.

On returning to his village, the thought of doing something useful haunted him and thus came the device that can crack the hard shell of walnuts and peel the green ones - 80 kg of walnut in an hour. It can process dry walnuts of various sizes, shapes and hardness and crack them without damaging the kernel.

Major components of the unit consist of a feeding hopper at top, twin rollers with specific geometries to grip walnut and deliver impact action, bearing support, a motor with a belt and pulley drive arrangement, related electrical circuits, and a metal flap angled at 45 degree located at the bottom to let the cracked walnuts slide out.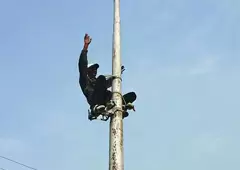 Mushtaq: An innovative climb to success
Speaking about Dar's innovation, G M Bhat, Director of University Science Instrumentation Centre (USIC) and Advisor, Entrepreneurship development Cell (EDC), University of Kashmir, says: "We found his idea workable and offered him workshop facility at University campus. Later helped him with funds from Grassroot Innovation Augmentation Network (GAIN), a sister organization of National Innovation Foundation (NFI). The model was created and we offered him honorarium."

"Such walnut cracker isn't available even in China, where there is a flourishing walnut industry ," Bhat says.

Then Dar developed a portable, compact and cheap devise for climbing trees and poles as he knows the drudgery of using a traditional ladder - Dar and his brother had to climb trees to bring down walnuts. The climbing device consists of a pair of supporting frames for each foot; Velcro based straps for anchoring foot to each frame, a sturdy strap with locking system to fix around tree and a flexible safety belt that can be wrapped around the body and the tree. It weighs less than half of the other tree climbers in the market.

Dar has also designed a device to restrict nicotine inhalation for smokers, magnetic leveler for fields, manual electricity generator, handy fruit plucker and a seed broadcasting machine apart from developing a model for demonstration of lunar and solar eclipses.

In 2008, he developed an almond cracking machine, which helps to reduce the drudgery involved in cracking almonds manually and prevent the fingers from being hurt. This machine is in the process of being improved and standardized. For this machine, he has also been supported under Micro Venture Innovation Fund (MVIF) scheme of NIF.

Trending Now: