In Jharkhand's obscure Sindurpur hamlet dwells a rural innovator who cares and protects

13-July-2015
Vol 6&nbsp|&nbspIssue 28
In a country of one point two billion people, it's not difficult for a good idea to get lost in the crowd. And Rudra Narayan Mukherjee, 34, innovator and inventor, is a fitting example of this.
Unknown, unsung, shackled by the lack of money and impeded by the absence of recognition for his creative and useful devices, he carries on his self-appointed mission that combines technology and social utility.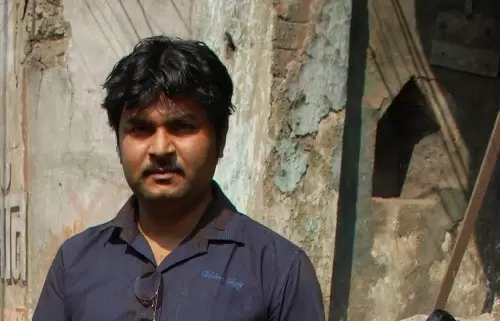 Rudra Narayan Mukherjee has 22 innovations under his belt and 40 other ideas (Photos: Gautam Dey)

Take a short trip of discovery. Get on the train to pincode-less Sindurpur, a tiny village of Baliyarpur Block, 20 kilometres from the coal capital of India, Dhanbad, and about 200 kilometres from Ranchi, the capital of Jharkhand.
Enter the unpretentious home of Rudra Narayan Mukherjee, where he lives with his parents, older brother, wife and child.
Rudra, the son of a retired electrical engineer at the Bharat Coking Coal Limited, inherited a zealous ember from his father, which stoked by deprivation, found only way to go: aflame.
"Even today my village goes without power for more than 4-6 hours in a day," Rudra says. "You can imagine the state of the local school. My father remains my only and abiding inspiration and has been my guiding star till date."
As you reach the traditional courtyard of his village house, you will spot a tin shed. Walk on and pinch yourself. Once. Twice. Perhaps once each time Rudra tells you about one of his inventions.
Be surprised at the 'calling' or 'auto-safe' helmet': Should the rider wearing it unfortunately be in an accident, the helmet, on impact or shock, will make a distress call to the rider's family member.
A system within it generates Bluetooth signals that activate the mobile phone of the accident victim and a call is made to the phone number earmarked for such emergencies. What a boon for accident victims usually left to their fate by the roadside!
Be amazed at the unusual plant-friendly device. Fixed in the soil, it sends an SOS when aridity endangers the life of the plants sown there, and lets it be known that some quick irrigation should be arranged.
"These devices are extremely useful, they are in the larger interest of society and have relevance in our daily lives," Rudra says.
"I have used cost-effective techniques to produce 20-22 affordable devices for different purposes. I am working on as many as 40 more ideas the world has not seen before."
Rudra's repertoire of innovations range from a device for bikes that would automatically call the owner of a bike if anyone tries to break the handle lock, to the latest greatest, zany but incredibly useful 'calling bed' for modern parents.
"This device is for toddlers who often have to keep wearing uncomfortable and unhygienic diapers," explains Rudra. "With the help of a device attached to the bed, the 'calling bed' sends information to the parents within six seconds of the child wetting the diaper."
Your eyebrows are shooting up, yes? But nothing is more surprising than the fact that Rudra has no degree from an engineering college, nor does he claim bookish knowledge, knowing a hundred formulae or lengthy algorithms by rote. This here is an ordinary Arts graduate from Dhanbad College. This here is a 'Grameen Vaigyanik', a rural scientist. This here is talent, innovation, perhaps genius.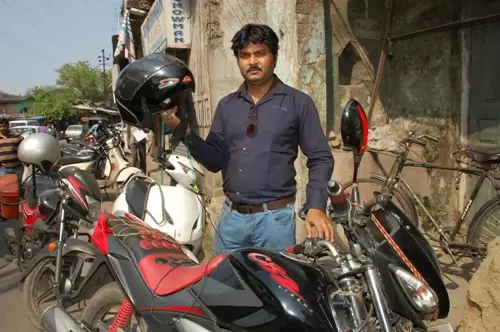 Rudra with his 'auto-safe' helmet'

To help women in threatening situations, Rudra has developed 'Damini-The Protector', named after the heroine of the iconic 90s' movie who stands up against rapists, injustice, and physical and mental intimidation.
Damini is an alarm system the size of a mobile, which Rudra made as a tribute to Nirbhaya, the victim in the Delhi gang rape case in December 2012. If in trouble or danger, a woman can pull a lever to sound a siren that will continue until a secret switch on the device is pressed.
On the anvil is an automated device, which with little human intervention, is capable of preventing bank robberies, by sending a distress call to the nearest police station within six seconds of such a break-in.
"The local SP is very interested in it, as bank robberies are quite common in this region," says Rudra, who is also planning to set up his own company – 'Protector International' – for the commercial production of gadgets such as this one.
Monetizing his inventions continues to be a challenge for Rudra. Working in his tin-roofed lab on a shoestring budget, sourcing materials and parts from Dhanbad, the real challenge before him is to arrange the initial finance and resources to get patents for his numerous machines and devices. Otherwise, he stands in danger of having his ideas stolen from right under his nose every time he presents them unsuspectingly to potential 'customers'.
"They all ask for my ideas and the technology behind the gadgets without any assurance about not copying it or any suggestion of monetary compensation," says Rudra.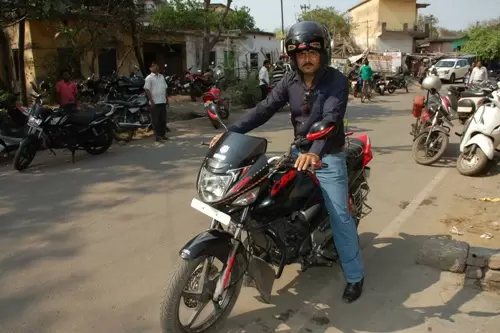 Rudra has started receiving some favourable responses to his plea for support to patent his innovations

"I need patents to safeguard the innovations, but it costs around Rs 86,000 to acquire a single patent. This is impossible for me."
Nevertheless, this cheerful, positive-thinking man's endeavours continue. To make ends meet, Rudra runs the customer service kiosk of a nationalized bank in Dhanbad, with his brother's help.
Recently he met Jharkhand Chief Minister Raghubar Das's Principal Secretary Sanjay Kumar, who directed him to the State Transport Secretary Ratan Kumar. This department has shown interest in Rudra's 'calling helmet', which can make all the difference between life and death for riders in an accident.
Ratan Kumar endorses Rudra's idea, saying, "The idea is good, but he needs to get the patents done so that it can be produced commercially."
Rudra has also knocked desperately at the doors of none other than the 'Make in India' initiative, a pet project of Prime Minister Narendra Modi.
"I have ideas, but those are not going to fill my stomach," Rudra laments, "so I try to reach out to all those who claim to nurture innovations and newborn ideas. I got a response from officials related to 'Make in India', approached CIMFR (Central Institute of Mining and Fuel Research, Dhanbad) and also the NIF (National Innovation Foundation)."
Very recently, Rudra got a letter from the NIF and the Secretary of Jharkhand Chief Minister suggesting that he consult the National Innovation Council that runs directly under the supervision of the Prime Minister.
More encouragement has arrived from the private sector. Recently, Hyderabad-based Narsimha Rao, CEO of Pranay Enterprises and H S Enterprises, contacted Rudra with a view to enter into a tripartite agreement along with CIMFR, to bear expenses for the patents of two of his innovations, to start with: the motorcycle anti-theft device and the 'auto-safe' helmet.
And breaking news is that CNN-IBN has invited him to participate in its initiative – the 'Networked India' award. Supported by Ericsson, this initiative will celebrate innovations employing 'mobility, broadband and cloud to make a social impact or address a specific social need', and be judged by an eminent panel featuring the likes of administrator Kiran Karnik and Rajan Anandan, head of Google India. Some news is always good news for Rudra.
After all, beyond the tangible measures of science and technology, there's that immeasurable principle of life: Hope is indestructible, hope is renewable and hope floats.

Trending Now: