An innovator from Mangalore has a solution to India's major problem: mosquito menace

15-November-2014
Vol 5&nbsp|&nbspIssue 46
In 1902, Sir Ronald Ross, the Indian born-British doctor received the Nobel Prize for discovering the malarial parasite being transmitted by mosquitoes. This helped lay the foundation for combatting malaria.

There is another Indian, 112 years later, Ignatius Orwin Noronha whose dream is to make India mosquito free by 2019. A Commerce graduate, his desire for this was sparked off by his helplessness as a child.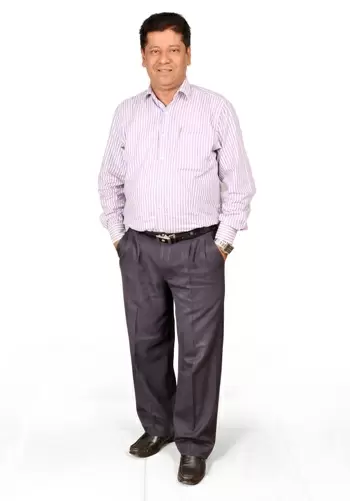 Noronha's device does not use chemicals and has been found efficient in eliminating the mosquitoes
"When I was 5-year-old child, I asked my mother about her swollen left leg. It is Filariasis, a disease caused by mosquito bite, she said. I grew up with a mindset that I could do nothing for my mother.

"But I didn't let my thoughts get erased from my memory; I wanted to eliminate the enemy buzzing around. After forty eight years of that incident, I designed a machine and called my product – MozziQuit," explains Noronha passionately.

Filariasis, as this 54-year-old Mangalorean innovator knows only too well now is caused by black flies and mosquitoes, but it is the latter which has obsessed him.

MozziQuit, a multiple mosquito trap device is not like the average mosquito repellent, the GoodKnights or All Outs of the Indian market. This device uses neither chemicals or liquids, nor smoke-ash. And its operating cost is stated to be 5 paise per day.

"We add food grade powder additives in the raw material while producing the injection moulding machine. Mosquitoes can easily detect their host through the carbon dioxide we exhale. Temperature of the blood, nerves and sweat are the other tell-tale signs on humans.

"Whenever the mosquitoes enter the vicinity, MozziQuit attracts those insects because of the food grade powder additives, in a combination of temperature equivalent to blood, nerves and the light.

"Once the parasites come closer to the device, the mosquitoes get vacuumed forcibly into it.They then pass through the instant killing zone of perforated sheets. Users can see the dead mosquitoes collected in the removable container," explains Noronha.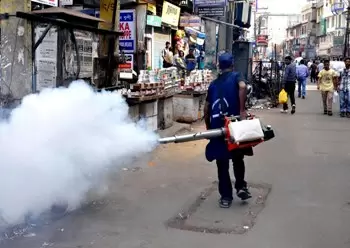 Anti-mosquito fogging operations have failed to control mosquito breeding in cities (Photo: Indian Photo Agency)
If that sounds like a rather brutal mass murder of mosquitoes to those who live in homes insulated from their constant visits, a cow shed may tell a different story.

Recent six-month trials conducted bythe KarnatakaVeterinary, Animal and Fisheries Science University at Bidar showed that there was an increase in milk yield, and the weight of the animals, as well as poultry birds while using MozziQuit in cow-shed and poultries.
When The Weekend Leader contacted the varsity faculty who carried out the experiment, we were told this on conditions of maintaining anonymity protocols, "We found MozziQuit to be very effective. It functioned as per the norms specified by Mr Orwin."
It has taken Noronha twelve years of experimenting to get here. In 2002, the device made by him was trapping a thousand mosquitoes in two hours, but the operating cost was high. By 2006, he managed to bring down the cost and four years later, applied for a patent.

Making Mozziquit cheaper and more user friendly brought him a gold medal in an innovation program by the R & D Department of LockheedMartin.

According to him, even in India, industrial mosquito trapper requirements are often imported. An example he cites is of Mosquito Magnet, a product introduced by American Biophysics Inc., which a Hyderabad based trader distributes exclusively. The product is priced at Rs 1, 10,000 per unit with a monthly cost of Rs 5000, including 4-LPG cylinders.

Noronha's own models MQ Max for ground floor homes and MQ Mini, for high rise apartments are priced at Rs.2990 and Rs 1500 respectively. His industrial model is priced at Rs 4990.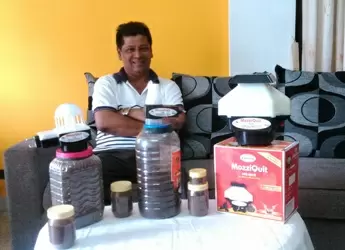 Noronha with his products
But it is in public health issues where his products most seek validity and repute. Mosquitoes live a short but deadly life. Between these 30-100 days, they multiply fast, laying 300-1000 eggs, depending on the kind of mosquito. They are smart enough to lay eggs across external breeding locations, be it collected water or leaves.

Noronha says, "This is where the local government officials fail to check the breakout of Dengue and Malaria. If MozziQuit is used in reasonable numbers, I can make India the first country in the world to be malaria-free in the next three to five years by controlling the mosquito multiplication rate."

He mentions the timely Pulse Polio program in India as an example of correctly following a timely policy to address polio. The National Institute of Malaria Research too has certified his product, he adds.

A father of two working daughters, his professional life started in construction in Bahrain, moved to manufacturing in Saudi Arabia and returned to India in 1994.

His other innovation in low-cost road technology was well received in PWD circles and he is hopeful that it would get the recognition it deserves.

Meanwhile, a TED talk, a patent and a few awards later, his brain continues to buzz with ideas and innovations, quite like the mosquitoes themselves.
Wish to share your story?
Trending Now: