An innovation costing just over Rs 60,000 may make tender coconut a cool thing to drink

22-September-2014
Vol 5&nbsp|&nbspIssue 38
Bangalore based Vinod Mahadeviah, who hails from Tittur near Tumkur, developed the basic model of a tender coconut water cooler about five years ago.

It was a simple innovation that needed workers to break the coconut and feed the coconut water through a polythene pipe that passed through ice cubes kept in a box.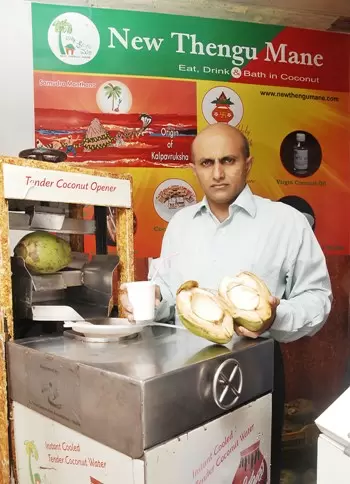 Vinod Mahadeviah's machine provides chilled tender coconut water (Photos: Saggere Radhakrishna)
The chilled coconut water came out through an outlet from the pipe and it was served to people. A 200 ml glass of chilled coconut water was priced at Rs.10.

Encouraged by the good response from people, he improvised on the model and developed a machine that now automatically breaks the tender coconut, draws water from it and cools it instantly.

The technology has been patented in his name and the machine costing Rs 60000 has been launched 4 months back.

Vinod used to wonder why people grab a bottle of soft drink to quench their thirst when tender coconut water was a much healthier option.

He realized that soft drinks were available at every nook and corner, you could carry the bottle with you and they came in chilled bottles. Vinod felt these three factors gave an edge to soft drinks even though they had zero nutrition.

On the other hand, tender coconuts were not easily available to consumers for they are sold by roadside vendors and not found in shops.

"I realized that if I sold chilled coconut water, people would be ready to buy it," says Vinod, who still has around 800 coconut palms in his village.

Back in his village he and his farmer friends used to sell a mature coconut at Rs.3 to Rs.5. It was with the idea of getting a better price for his yield that he hit upon the idea of selling chilled coconut water about five years ago.

In the first model he developed, an earthen pot filled with ice cubes was put in a box. He kept a large polythene pipe coiled in a way that it passed through layers of ice cubes. Hired laborers would break the tender coconut and the water would pass through the pipe.

There was an outlet in the end that could be opened when required to fill a chilled glass of fresh coconut water. Much to Vinod's surprise he got tremendous response for the product and even on the first day they sold more than 500 glasses at a coconut fair.

Each glass contained 200 ml of coconut water and was priced at Rs 10. Even though coconut water from the nut cost Rs 6-Rs 8, people opted for the chilled coconut water in the heat.

They sold copious quantity of tender coconut water in various fairs and other places. But he continued to depend on laborers for breaking the tender coconuts. In one fair he faced labor problem and the idea of creating a coconut breaker struck him.

"A sharp chopper is needed for mechanically breaking tender nuts. I thought of using customized cutter (using hydraulic power) where you use a little power for compressing the blades so that the nuts would crack under pressure," said Vinod.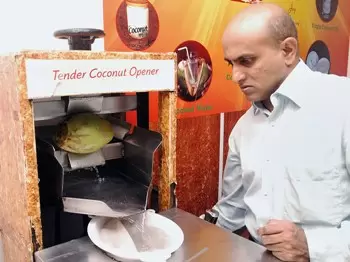 The machine breaks the nuts and brings out chilled coconut water
It proved successful. Once the nuts broke, the water was collected in a tray below the blades and passed down the cooling chamber. The bottom of the cooler was filled with layers of sand and ice cubes.

Flexible pipes pass between the ice cubes and sand cooling the coconut water. The machine cools water up to 14-15 degree C. It holds 10 kg of ice that can cool enough water for serving 400 glasses (of 200 ml size) of chilled coconut water. The machine weighs 65 kg.

Vinod approached National Innovation Foundation (NIF), Ahmedabad. NIF suggested few modifications and he was able to develop the commercial version a few months back.

"NIF helped me to get the technology patented and helped in promoting the machine through various exhibitions and fairs," said Vinod.

On World Coconut Day recently he got much appreciation for his machine in Bangalore.

As Vinod takes his machines for exhibitions and innovation fairs, he is flooded with enquiries. He has already sold one machine and received 15 orders. He is busy making the machines. He gets the outer body fabricated in fiber glass from other industrial units.

With a streak of entrepreneurship, he and his wife started experimenting with coconut recipes both from the 'malai' of tender coconuts and mature coconut. The 'malai' in the nuts are scraped and used to make jellies (Rs 18), soufflé (Rs 20), lassi (Rs 25), ice-cream (Rs 20) and soup.

For the last two years the couple has developed or improvised on 30 coconut based recipes and sells these products from their shop in Rajajinagar in Bangalore.

Trending Now: