An innovative hydraulic structure made of rubber replaces the old check dams for better

16-August-2014
Vol 5&nbsp|&nbspIssue 33
Incidents of check dams being washed away during floods in India are common. However, the 'rubber dam' developed by scientists from Directorate of Water Management in Bhubaneswar faces no such risk because it can just be folded up whenever the stream is in spate and put back when the water flow returns to normal.

The rubber dams, which check soil erosion and also act as a reservoir, have been installed on a pilot basis at five places in Odisha's Khurda district – at Mendhasal, Baghamari, Badapokharia and Chandeswar.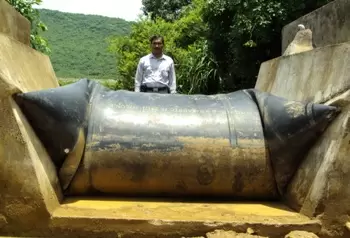 Rubber dams last longer than the traditional concrete check dams, say scientists
As water availability became assured even during lean season, the productivity of rice increased by 62 percent in these areas. Green gram and vegetable production went up by 25 percent and 40 percent respectively.

Scientists are elated and are looking forward to replicating the model across the country for the benefit of farmers.

"Our challenge was to make a flexible rubber dam and install it in watershed areas, primarily to check soil erosion where streams and 'nullahs' (narrow water channels) flow freely, and also to store water," says Dr. P.S. Brahmanand, Senior Scientist (Agronomy), a member of the 'rubber dam' project.

The concept of the rubber dam is simple. A special type of rubber sheet – which is like a big air pillow - acts as a wall to regulate flow of water, when it is inflated with water.

This rubber structure has an inlet pipe to pump in water and an outlet pipe to let out water and deflate it during times of flooding.

The components of a rubber dam include a concrete base and side walls. Its dimension varies from a width of 1 meter to 100 m, and height of 0.5 m to 5m.

The flexibility and the strength of the dam are its assets, according to scientists. "The strength and durability of the rubber structure has been tested in the hydraulic lab of IIT Mumbai for its ability to withstand high velocity water flow," says Brahmanand.

The simulated conditions even had water flowing with stones and animal carcasses that hit the rubber structure at high speed.

"We estimate the lifespan of the dam to be about 25 years. A traditional check dam (built with concrete) on an average could last up to 10 years," he says.

The height of the dam is increased or decreased to regulate the depth of flow in the irrigation canals present in upstream side of the rubber dam.

Rubber dams can be used in coastal creeks, estuaries, streams and channels to restrict the inflow of sea water into land mass. During tsunami and high tide it can also prevent the high tides to enter fresh water bodies.

The rubber dam project is funded by National Agricultural Innovation Project, Component-4 of Indian Council of Agricultural Research (ICAR), New Delhi, and being implemented by scientists at the Directorate of Water Management, ICAR, at Chandrasekharpur, Bhubaneswar. The team of scientists was led by Ashwini Kumar.

The Indian Rubber Manufacturers Research Association (IRMRA), Central Institute for Research on Cotton Technology (CIRCOT) and Kusumgar Corporates Pvt. Ltd., Mumbai, collaborated with the scientists in developing the technology.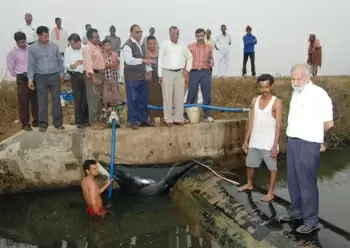 Scientists inspecting the working of a rubber dam
This technology is currently also under demonstration in Meghalaya, Uttarakhand, Gujarat, Jharkhand, Maharashtra, Kerala and Odisha.

Scientists say the rubber check dams could immensely benefit farmers in rain fed eco-systems and in coastal areas. It will enhance agricultural productivity, increase rural livelihood options and check the rural to urban migration of labor, they say.

However, scientists are reluctant to reveal details about cost of the dam. Dr. Susanta Kumar Jena, Principal Scientist, says, "At present I can say that the cost of rubber dams is cheaper or on par with the cost of cement concrete check dams."

The rubber dam scores over the traditional check dam in several ways. While traditional check dams become silted over a period of time, the rubber dam can be deflated periodically to flush out the sediments.

During earthquake the traditional check dam could be severely damaged, whereas the rubber head wall of rubber dam has little risk of damage.

Right now the installation of rubber dams is funded by government schemes, developmental agencies or by watershed development and management groups. These are installed across streams, canals and creeks.

According to ICAR scientists the rubber dam technology has been demonstrated to officials of Ministry of Water Resources, Government of India, Government of Odisha, and to watershed development team members, farmers and other stakeholders.

They have received overwhelming response, and hope the different stakeholders will adopt the technology in a big way across the country.
Wish to share your story?
Trending Now: