Agricultural innovators soldier on bearing 'unscientific' tag as cross
Sahana Ghosh
&nbsp | &nbsp Kolkata
31-May-2014
Vol 5&nbsp|&nbspIssue 22
Two green crusaders in West Bengal have made it to the record books for breeding plants to record heights and growing them two-way to counter effects of global warming. However, their lack of formal education as scientists is proving a deterrent for the duo in delivering their novel ideas to the nation's farming community.
Awareness of the effects of global warming and the perils of shrinking space in agriculture had spurred Jalpaiguri district's Sumanta Misra, an employee in the state's agriculture department, and Kolkata-based businessman Chimpoo Singh Oberoi, to devise novel ways of increasing productivity in restricted space. They made it to the Limca Book of Records 2014.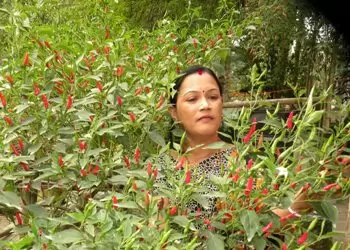 Misra's 32 feet chilli plant can yield up to 30 kg of chilli
Misra, son of a farmer, is well-known in the agricultural community for his hobby of plant breeding. His record-holding red chilli plant, grown on land soars at 32 feet, while the potted one stands at 20 feet.
"The 32 feet plant can yield up to 30 kg of chilli while a normal chilli plant standing at 2 feet yields 250 grams," said Misra.
His work "only includes native plant species and organic farming methods" or the use of natural manure, sans chemical fertilisers and pesticides.
"What I am doing is as a hobby, but it is for the benefit of all. My work involves only native plant species which have reduced in numbers because of propagation of hybrid varieties. Those growing the hybrids use more chemical fertilisers and pesticides which affect our health in turn," Misra said, refusing to divulge any other details of his method.
"However, since I am not a formal scientist, my work is not treated as scientific, despite the honours I have received from various organisations. Moreover, in trying to share my knowledge, there is a fear that it will be used by others as their own," said Misra who has been at it since 2001.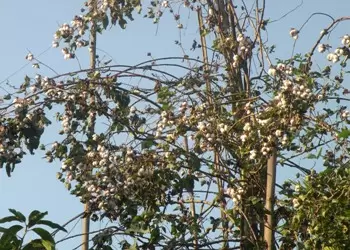 Misra's high yielding otton plant
This backyard scientist also has the record of growing tallest cotton plant (37 feet) and guava plant (34 feet) to his name. They have all been grown in his home garden of 250 sq ft area and on 1,700 sq ft of rooftop space.
On the other hand, Oberoi's green fingers keep tinkering with plants and specially-designed plastic bottles that enable plants such as lady's fingers and tuberoses (Rajnigandha) to bloom from both ends of the containers. He has tried it in other types of containers as well.
"This way one can get more plants in small space. I have no certified scientific know-how but I know this can be done on a large scale through government support and it can be refined further by scientists to make the process more organic," said Oberoi.
Agreeing with their contention, Biplab Das, project co-ordinator of Indian Council of Agricultural Research's (ICAR) Krishi Vigyan Kendra at Jalpaiguri said that there is always a risk of intellectual property being misused.
"They are usually sidelined in preference to works by formal scientists. But these farmers are the real scientists who use indigenous resources. There should be a way to get a university or government to verify their results and then applying it. However, protection of their findings should be ensured," Das said, adding both the government and the farmers should co-operate equally.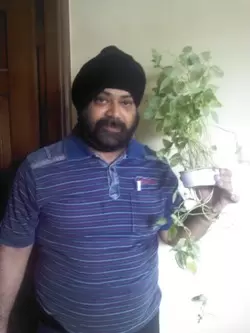 Chimpoo Singh Oberoi with his two-way plant
Neelam Grewal, director, ICAR'S Directorate of Research on Women's Agriculture in Odisha, stressed the importance of conveying the new developments to state agricultural universities (SAU) first.
"Before they come out with their discoveries, they should approach the SAUs first for assistance regarding protection of intellectual property. We are trying to promote the concept of 'farmer-scientists' as their traditional knowledge base can be useful to others," said Grewal.
According to P. Majumdar, assistant director, National Centre Of Organic Farming (NCOF) at Ghaziabad in Uttar Pradesh, such new and organic farming practices, are "most important" and are a way to make the farmers "self-sufficient", especially in tribal areas where organic methods can lead to a 25 to 50 percent increase in output.
"For the most part, it can be applied only on gap-filling mode in areas where there are absolutely no scope for any other soil nourishing system.
"In India, with so many mouths to feed, food security is not possible without chemical fertiliser use," said Das.
The NCOF has recently started an initiative to give small aid to farmers who can show their system is organic, under a scheme involving groups of farmers. But this needs to be routed through the respective state governments, he said. - IANS
Wish to share your story?
Trending Now: