An engineer turns rural for an innovative idea that will help millions across India

26-April-2014
Vol 5&nbsp|&nbspIssue 17
A Mechanical & Automation Engineer from Delhi University, Abhinav Das (27), has developed a Rural Utility Vehicle (RUV) that maybe an answer to an efficient transportation mode in rural India.

Even though mobiles have filled the gap in communication between the rural-urban divide, the lack of physical connectivity like good roads and transportation is severely hindering the socio-economic development of rural India.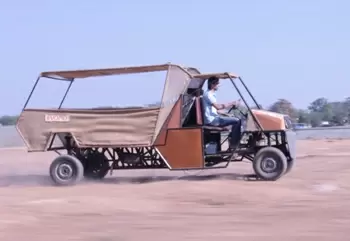 RUV has a 600-cc single cylinder engine that powers the vehicle
"Millions of rural people don't have access to facilities that are taken for granted in cities. Rural India lacks proper transport facilities," says Abhinav.

As a result, easy access to healthcare, markets for their agricultural produce and education are denied to villagers and it affects their social and economic development.

But how did he get the idea to develop the RUV?

Abhinav was living in his own bubble of urban comfort dreaming of making it big at a high end automotive industry till he visited a town called Bulandshahr, just 50 km from Delhi.

He was shocked to see bullock-carts and 'jugaads' (locally developed motor vehicles) that ran on agricultural pump engines and faulty designs with no safety features transporting people on dirt-tracks.

The vehicles were often overloaded and posed a threat to the lives of the passengers. In 2000, the Rajasthan High Court had even banned jugaads since they were involved in road accidents, but they continue to ply.

Abhinav started working on a rural vehicle that would come cheap as well as withstand tough road conditions. He wanted to develop a vehicle that would be legal, and offer safe transport to the people. His reference point was a prototype he had built from steel frames as an alumnus of Guru Gobind Singh Indraprastha University in Delhi.
The result is the RUV, developed by Evomo Research & Advancement Pvt. Ltd, his start-up rural transportation enterprise in Ahmedabad.

The RUVs are expected to roll out in next six months. Evomo (from evolving mobility) already has dealers in different parts of the country.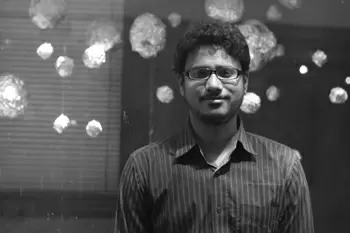 Abhinav's start-up rural transportation enterprise, Evomo, is in Ahmedabad
According to Abhinav, the road price of RUV would be Rs 1.8 lakhs. The cost is about Rs 30000-Rs 40000 more than that of the jugaad.

The RUV has several advantages over jugaad. The developers are confident that jugaad users would happily switch over to their vehicle because of its benefits.

The advantages cited are: unlike jugaad, banks would offer loans for purchasing the RUV. RUV is safer, and sturdier; one has property rights over it as it is legal. With few attachments the RUV can be used to generate electricity and pump water.

Since jugaad is illegal, one can't go to the police if it is stolen. One cannot take any loan against it. Jugaads do not have certification from Automotive Research Association of India (ARAI) or the International Centre for Automotive Technology (ICAT).

RUV has a 600-cc single cylinder engine that powers the vehicle (12 HP and 3,600 RPM) unlike the jugaad that has a non-automotive engine. It gives a mileage of 20 km/litre diesel, can carry load up to 2000 kg, and attain a top speed of 50-60 kmph.

Abhinav adds that a major advantage is the small investment that would be required to set up a RUV manufacturing unit.

The units can generate local employment as smaller plants could be established by investing Rs 40-60 lakhs to produce fifty units per month. A conventional automotive set-up requires high capital to the tune of Rs 3000 crore to produce 200000 units/year.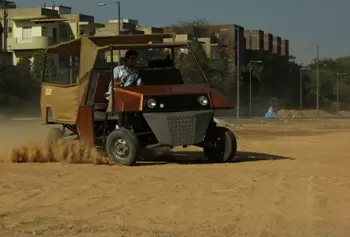 RUV gives a mileage of 20 km/litre diesel and can attain a top speed of 50-60 kmph
The entire frame of the RUV is made of medium-sized strong steel tubes. It is economical, has high strength, and low weight. Structurally, the RUV has lots of safety features.

Jugaads offer a lot of space for people to hang on, which lead to accidents. But the RUV is built in a way that the travelers need to get inside the vehicle.

Abhinav designed the first prototype of RUV in 2010. He had earlier worked on research and development at the International Center for Automotive Technology at Gurgaon.

Initially NID (National Institute of Design) gave him Rs 6 lakh seed funding and space for his workshop in 2010.

RUV got a boost when it won the 'The Power of Ideas challenge 2012', the bi-annual nationwide competition that selects start-ups, which get help from the Centre for Innovation Incubation & Entrepreneurship (CIIE) of IIM Ahmedabad through incubation, investment, mentoring and capacity-building.

They plan to promote the RUV through village fairs and haats and word of mouth. They have received direct queries from institutions and NGOs and are open to pre-orders.

They already have a production unit in Vatva industrial estate in Ahmedabad. The production version is slightly different from the first prototype of RUV.

Wish to share your story?
Trending Now: