Inspired by the traditional matka, Wello's invention is godsend for women

08-February-2014
Vol 5&nbsp|&nbspIssue 6
Though India is emerging as one of the world's largest economies and an industrial powerhouse, it is still vulnerable to acute water scarcity. According to an estimate, nearly 20 crore people do not have access to safe drinking water.
The main cause is the depletion of groundwater in many parts of the country. This has also created impediments for farmers as they cannot grow crops and provide food to their livestock.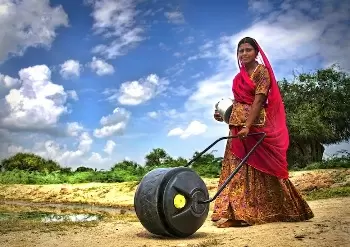 Water Wheel, an innovation that is changing the lives of women in rural India
Many of the areas in rural India depend on wells, hand pumps, and water tankers for their drinking water needs.
In many places women trek miles for a pot of water, which they bring back carrying on their head. Not only does this routine consume their time, but it also causes them health problems.
In 2011, a team from Wello, a private company with a social vision, decided to find ways to address this problem faced by women in rural India.
After doing their groundwork and research in some selected villages, they came up with an innovative idea of the water wheel.
"Women had to walk long distances on foot, almost 6 kms, to fetch water in pots on their heads. We wanted to find a solution to ease their burden and allow them to use their time more productively," says Sruthi Sadhujan, Manager, Wello.
Members of Wello met people in Udaipur and Jodhpur and asked them about their problems. People complained about their long walks to fetch water.
After months of labour, the creative team of Wello conceived the water wheel.
The water wheel is a 50 litre rolling drum made of durable plastic. It carries three to five times more water than the traditional pot, and is convenient, durable and easy to push or pull.
The shape of the water wheel was inspired by the traditional matka.
"The water wheel has helped people to save time and collect more water for their domestic and personal needs. It is also hygienic and the cap-in-cap design prevents recontamination at the point-of-use," says Sruthi.
According to her, families are saving up to two hours every day by using the water wheel.
In developing countries, where water-borne diseases like dysentery and diarrhea are leading causes of childhood death, people have started thinking about sanitation with extra water available.
The water wheel is being considered a positive invention especially for women. The traditional method of carrying water on heads had serious implications on women, leading to spine injuries, and sometimes complications during the childbirth.
With water wheel, women are relieved of carrying water on their heads. Even men are keen to help.
"Men have started collecting water with water wheel, as it is easy and acceptable among them. This has given women a chance to earn an income and girls to focus on their studies," says Sruthi.
Wello collaborates with NGOs and CSRs to sell the water wheel at affordable prices to the people.
Water wheel has found social acceptance among the male folks too
On their pricing policy, the company's website states: "In recognition of the fact that the people who need the WaterWheel the most have the least ability to pay for it, we developed an innovative business model that will enable us to offer the WaterWheel at an affordable price.
"Local manufacturing (in Ahmedabad, India) and CSR partnerships help us keep costs as low as possible."
Sruthi says they have priced the product around Rs.2500, but it could be priced less if they get orders for more than 100 units.
Wello is working to add components like water purification and a battery-charging device powered by the rotation of the wheel.
"Consumers are now using the WaterWheel 2.0. We are now starting production of the WaterWheel 2.5, which will have a bigger mouth opening for better pouring and cleaning, and more user-friendly handles for overall improved usability," says Sruthi.
At present, the water wheel project is active in Jalore in Rajathan, Damoh in Madhya Pradesh, Yavatmali n Mahrashtra, and Ahmedabad in Gujarat.

Wish to share your story?
Trending Now: