Indian innovator plans to go international with his latest product

Roohi Sehgal
&nbsp | &nbsp New Delhi
01-November-2013
Vol 4&nbsp|&nbspIssue 44
Jaydeep Mandal, co-founder of Delhi headquartered Aakar Innovations, who has developed a low-cost sanitary napkin machine that is all set to penetrate rural India, had an interest in innovations right from his childhood.

At school, he had designed a water-lifting device for irrigational use. But the innovation that would satisfy him most was to come years later.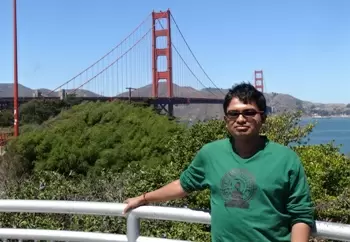 Jaydeep's innovation promises to promote health and hygiene of women in rural areas and also provide jobs for them
"A turning point came in my life when I realized that the challenge was not in making one innovation after another, but in designing a livelihood innovation and making it commercially viable," recalls Jaydeep, who holds an engineering degree and an MBA in innovation and entrepreneurship.

During his quest for a livelihood innovation in the rural areas, Jaydeep, 27, was also getting sensitized to the pitiable health and hygiene conditions of young girls and women during their menstrual days.

Adolescent girls either dropped out of school or registered poor attendance during their menses.

"I discovered that about 88 per cent of women use unsterilized rag cloth, even ash, husk, or sand wrapped in cloths, during their menstrual days. It causes not just urinary infections but also cervical cancer and other complications," he says.

In 2011, he and his partner Sombodhi started Aakar Innovations and launched their low-cost sanitary napkin machine a few months ago. Apart from a demo unit at Dwarka in Delhi, they have installed 3 other machines in Maharashtra and Bihar.

They plan to sell the machines to women's self-help groups and NGOs in rural areas.

The machine costs Rs.2.5 lakhs. It can produce normal sanitary pads at the cost of about Rs.1.80 per piece and a superior, bio-degradable pad at about Rs.2.40 per piece. The women who make the pads sell it with a small margin.

The machines have already provided jobs for about 50 women and have the potential to create sustainable livelihoods for more rural women.

But there are challenges that need to be overcome. "The biggest challenge is to create awareness among the rural women, and help them overcome their conventionalities and make them to accept such an alternative product," says Jaydeep.

This indeed is instrumental in shaping Aakar's business model that is "by the women and for the women". Their micro entrepreneurs are the local women who work extensively on generating community awareness and building a customer network based on trust.

The 'Anandi' pads (the brand name of their pads) are sold at women's group meetings and by women vendors, making it more likely for hesitant girls and women to buy them.

On the cutting edge of manufacturing low-cost sanitary napkins is Aakar's use of raw materials to make the absorbent core.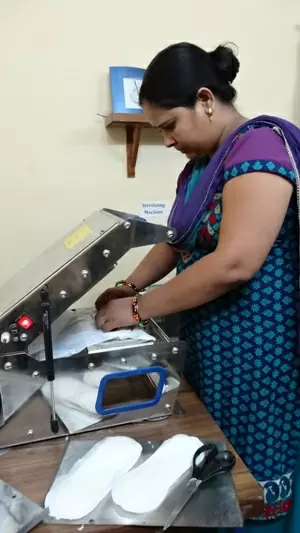 'Anandi' pads are developed by women, for women
"As against the conventional wood pulp that is used in all commercial sanitary napkins, we have devised a way to use agricultural and plant waste that does not under any circumstance compromise on absorption, moisture retention, and softness," says Jaydeep.

"Efforts are also made to localize these raw materials based on the region where these are manufactured. For instance, in Uttar Pradesh, we use bagasse and in the North East, we use bamboo," he says

So, does Aakar Innovations have plans to pitch their product in the urban market too?

"Our vision is to create awareness amongst the rural women to use sanitary napkins. We are not competing with the MNCs. Indeed we hope that in the long run, the MNCs can also enter into the rural space and women may have more choices," says Jaydeep.

Jaydeep says Aakar will be touching upon international grounds soon. "Talks are on for setting up production units in Africa and South East Asia. We hope to gain a breakthrough soon," says Jaydeep.

At home they have already signed an MOU with Gujarat Livelihood Promotion Company, a government of Gujarat enterprise, for delivering 600 machines in the State.

"We will provide training for the women in operating the machine and even assist them in marketing the products," says Jaydeep.
Wish to share your story?
Trending Now: