Sivaraj Muthuraman wants to improvise on his eco cab and take it places

P C Vinoj Kumar
&nbsp | &nbsp Chennai
13-September-2013
Vol 4&nbsp|&nbspIssue 37
Having spent most of his schooling years at a residential school in Coonoor in the Nilgiris, Sivaraj Muthuraman did not want to stay in the campus hostel when he joined BBA at Loyola College in Chennai.

He and his friends rented a house and enjoyed their newfound freedom by exploring the city and nearby places on their modified Pulsar 180 bikes.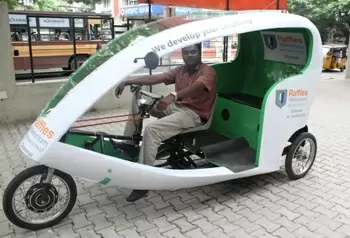 Sivaraj offers free rides on his eco cabs in Chennai
"I spent about rupees two lakhs in modifying my bike. All my friends were so crazy about our bikes and loved to go on long rides. We went around the city so much that I know every nook and corner of Chennai," says the 28-year-old innovator of 'eco-cab', which is a modified cycle rickshaw that can be pedaled as well as run on solar and electric energy.

It was his passion for bikes and his interest in modifying them that made him to attempt a bold innovation later on in life.

It has been about three years now since he built his first prototype of the eco cab, which was an improvised cycle rickshaw. It was not a solar or electric powered vehicle then.

"I purchased a cycle rickshaw for Rs.9000 in Chennai and took it to Salem, where with the help of few welders we fabricated the first eco-cab. I wanted to ply it on the city roads as a free transportation service," says Sivaraj, who holds an MBA from Heriott Watt University, Singapore campus.

While he wanted to promote an eco-friendly public transport, he had also devised a business model as he proposed to make money from displaying advertisements on the vehicle.

"There is definitely a social cause to the eco cab, but remember I am a marketing guy basically," he says light heartedly, making sure he would not be projected as some kind of a social hero.

The first prototype was built with lot of steel pipes and a fiber body.

Later, he upgraded it making it run on solar and electric power. He cut down on the use of steel pipes too in the later versions, which reduced the weight of the vehicle considerably.

The current version, two of which run on a small stretch between Marina Beach and Santhome, can touch a maximum speed of 35 km/h and run for about 60 km on a single charge.

He introduced the pedal model eco-cabs in Beijing, Dublin and Toronto, but the concept failed to take off there as salaries for the drivers were too high and did not match with the revenue generated through advertisements.

In Chennai, the drivers are paid Rs.7000 per month. They ply the vehicle from 8 am to 5.30 pm with a three hour break in between.

An international fashion institute, whose sales and marketing division he heads in Chennai, has taken the advertising space on the two eco cabs currently plying in the city.

But it has not been a smooth ride for the drivers of the eco cabs. Sivaraj says the traffic cops sometimes stop the vehicles on the road and harass the drivers.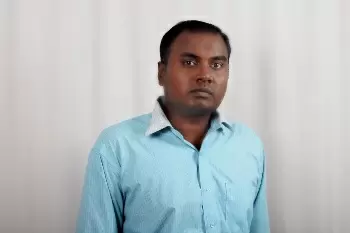 Sivaraj has plans to develop a commercial model of the eco cab
"They ask all kinds of silly questions hoping to extract some money," he says. (But when we took a short ride on the Marina, hoping that some cop would stop us, it turned out to be a disappointment as the cops we spotted on the road looked the other way when we passed them.)

Sivaraj says that the vehicle neither requires any registration nor do the drivers need a license to drive it.

He is from Tiruppur and his family is into garment export business. With business in his genes, it is not surprising that Sivaraj is brimming with ideas. He has tried a few initiatives besides the eco cab.

One of his businesses that had seen better days is a concept he had developed called 'carvertising', wherein car owners tie up with him to advertise brands on their cars in return for a monthly retainer that could range from Rs.2000 to Rs.5000 depending upon the model and make of the cars.

Sivaraj says he has plans to develop a commercial model of the eco cab, which he estimates might be priced around Rs.1.5 lakhs at current manufacturing costs.
Wish to share your story?
Trending Now: