Kolkata student builds a spy drone
Sahana Ghosh
&nbsp | &nbsp Kolkata
29-August-2013
Vol 4&nbsp|&nbspIssue 34
Subhanjan Saha has his eyes in the sky. A three metre by one metre drone, or unmanned aerial vehicle (UAV), built by him from scratch has garnered widespread attention - but unfortunately, the top brass in India's defence and aeronautics sectors are yet to respond.
Saha, a 21-year-old computer science student of Manindra Chandra College here, has written to the Defence Research and Development Organisation (DRDO) and the Bangalore-based Hindustan Aeronautics Limited (HAL) to fund and help upgrade his drone so that it can be deployed for the country's defence and in other spheres.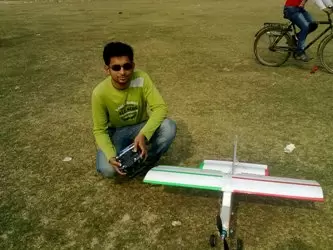 Subhanjan Saha and the drone he has built (Photo: IANS)
"I have written to the DRDO and HAL, but there has been no positive response yet. It's built from basic materials but is capable of camera surveillance, weather forecasting, attack and defence and much more..only if the authorities can fund the upgradation," Saha said.
"I want it to be used for the country's benefit," Saha emphasised.
Daubed in the colours of the Indian flag - saffron, white and green on the sides - the drone, which resembles an aircraft, was engineered by Saha over a span of four to five years.
Equipped with two 180-degree high-definition cameras (one in the front and one in the back), the aerial vehicle is remote-controlled and once airborne can scan a 10-km area.
"It is powered by rechargeable batteries and is eco-friendly. At a stretch it can go on for 40 to 90 minutes with an average of 60 minutes. If I get help from the authorities, then it can be transformed to function longer," explained Saha, who was born at Kalna in Burdwan district.
The body of the drone has been fabricated from a sturdy form of thermocole available in local markets, while the electronic components have been sourced from abroad via online orders.
"The electronic parts are very expensive in India. So I got a friend to help me out with net-banking and placed orders online," Saha said.
He has been scrimping and saving through all these years to finance his drones. At the last count, he has four other aerial vehicles in stock.
"I used to save the money that I got from winning various competitions over the years. My earnings from giving tuitions also contributed to the budget that stands at Rs. 80, 000 to Rs.1 lakh per drone," said Saha.
Guiding Saha in his efforts is the NGO Prantakatha and Abhijit Mukherjee of the S.N. Bose Centre for Basic Sciences here.
"We provided Saha with the email ids and other contacts. He has been writing to them. A lot of individuals and organisations have shown interest in helping him but so far we have not received any response from the government agencies," said Bappaditya Mukherjee of Prantakatha.
"We are trying to open a dialogue with the central government but if it does not respond, we will go with the private agencies," Saha said. - IANS
Wish to share your story?
Trending Now: