The future of eucalyptus looks rosy as the hybrids show immense potential
Rahul Chhabra
&nbsp | &nbsp Dehradun
02-August-2013
Vol 4&nbsp|&nbspIssue 31
They look like normal eucalyptus trees up to 65 feet tall with a trunk girth of about 19 cm and towering over their peers in an evaluation trial on the foothills of Himalayas here. They are hybrids, progenies of two high-growth species of eucalyptus parent trees.
The progenies - just about six-years-old - have shown a growth pattern which is substantially higher over a commercially available clone variety of their age and with approximate height of 25 feet and girth of 6 cm.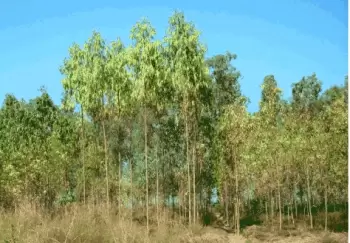 An experimental eucalyptus plantation in Hoshiarpur in Punjab (Photo: IANS)
Welcome to the world of tree breeding at the Forest Research Institute (FRI), in the Himalayan foothills, where Indian scientists are working to develop fast-growing, taller and thicker eucalyptus trees so that their plantations can satiate the paper industry's demand and, in effect, help reduce the load on other species of the natural forests for the purpose.
The fast-growing progenies are the centre of attraction at New Forest in the FRI campus and hold promise of developing future eucalyptus varieties to feed pulp or biomass to the paper industry and other wood-based industries.
"In eucalyptus tree breeding, scientists are developing hybrids with controlled hybridisation among desired genotypes of different eucalyptus species," said FRI Director P.P. Bhojvaid.
A hybrid that grows taller and faster with greater volume is cloned and multiplied. In this way, the plants produced will have identical features and growth patterns and could be distributed among farmers and growers who undertake captive plantation for the paper industry.
Ashok Kumar, head of the FRI's Division of Genetics and Tree Propagation, said: "Cloning continues parallel with tree breeding, adopting conventional and tissue culture techniques (in a sophisticated lab)."
He said the FRI recently released a clone of eucalyptus propagated through tissue culture - FRI-EH-001 - after establishing its higher growth and biomass production in different locations such as Haldwani in Uttarakhand, Hoshiarpur in Punjab and Hissar in Haryana, which report different geographical conditions like land, rainfall and temperature.
Normally, a good quality eucalyptus tree is considered to be one which grows tall and its trunk fast becomes thick.
The FRI, an institute of the Indian Council of Forestry Research and Education under the ministry of environment and forests, has, over the years improved the quality of eucalyptus to such an extent that a biomass of up to 40 cubic metres per hectare per year could be possible in experimental conditions.
A related research paper titled "Sustained hybrid vigour in F1 hybrids of E. torelliana x E. citriodora" was published during 2010 in World Applied Sciences Journal.
In India, the eucalyptus yield has still been way behind that of Brazil, which had achieved up to 80 cubic metres per hectare per year during 2011, said scientist Parveen, who uses only one name.
"In general plantations in India, a yield of up to a maximum of 5-6 cubic metres per hectare per year has only been realised from improved seed sources, which has been improved to 16 cubic metres per hectare per year with clonal stocks," she added.
In a way, the hybrids that have been screened after years of efforts of the scientists of FRI, compete extremely well with commercially available clones, she said. - IANS
Wish to share your story?
Trending Now: