From bamboo walls, the couple moves to PET bottle houses that also come cheaper

31-May-2013
Vol 4&nbsp|&nbspIssue 22
Prashant Lingam and his wife Aruna Kappagantula seem to have a flair for doing extraordinary things.
In 2007, the Hyderabad based couple started Bamboo House India, a social enterprise that promotes bamboo products made by tribal artisans.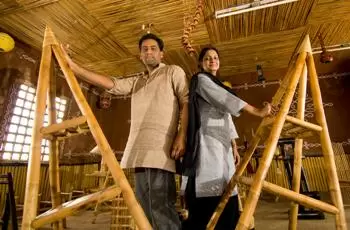 Prashant and Aruna have built a house with plastic bottles and bamboo
Later, they started building bamboo houses, a market that has grown with a sudden interest in bamboo penthouses in Hyderabad.
Now, the couple is in the news for building a house using plastic bottles and bamboo. They have constructed a 225 sq ft building in Hyderabad recently at a cost of about Rs. 75,000 using nearly 4000 mud-filled plastic bottles that made up the walls.
"We built it mainly with bamboo and plastic bottles. Bamboo beams and columns were used instead of steel.

"Bottles filled with mud were placed in vertical and horizontal alignment for thermal insulation and strength. Later they were plastered with mud and cow dung, and then with cement," says Prashant.
PET (Polyethylene Terephthalate) bottles were purchased from scrap dealers at Re.1 per bottle and used in place of conventional bricks that would have cost more.

Prashant says a cement brick costs around Rs.10 and a red brick would cost half as much. There are other advantages as well. The bottle houses need less cement to build and let out less heat.

"We used 6-8 bags of cement for building the whole house," says Prashant, adding the building would have a lifespan of not less than 30 years.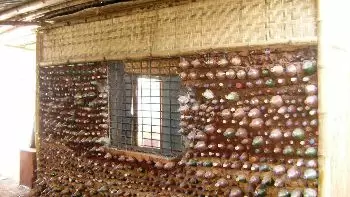 Around 4000 mud-filled plastic bottles were used to build the 225 sq ft building
He believes the bottle houses would address two major challenges facing the nation - housing shortage and PET bottle waste disposal.

"India faces a housing shortfall of 148 lakh dwelling units. PET bottles are non-bio degradable and their disposal poses a challenge in waste management.

"But if these bottles are used in construction, it would not only solve a major problem, but also provide a solution to the housing crisis," says Prashant.

The couple is making plans to promote this bottle technology for mass rural housing and hopes to convince the ministry of rural development to make use of the technology for construction of houses under the Indira Awaas Yojana, a rural housing program.

"The government gives assistance of Rs.70,000 for building a house under this program. But a bottle house of 200-400 sq ft can be constructed at less than Rs.50,000 in rural areas.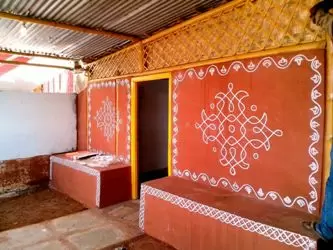 The bottle house after completion
"We plan to request IIT Delhi to do quality tests on our bottle building since their report would give the technology more credibility," says Prashant.

At TCS, Hyderabad, where they will be building a bamboo cafeteria, they plan to put chairs and benches made of plastic bottles.

"Corporates are now realizing the problems posed by PET bottles and they are looking for solutions. The N Convention Hall in Hyderabad for instance generates about 4000-6000 plastic bottles a day," says Prashant.

However, for Prashant and Aruna, the huge generation of plastic bottle waste is not a problem anymore, but rather an opportunity.

Wish to share your story?
Trending Now: