Solar powered plane attempts world record
22-May-2013
Vol 4&nbsp|&nbspIssue 20
Solar Impulse, the solar-powered airplane of Swiss pioneers Bertrand Piccard and André Borschberg, will attempt to set an absolute distance world record in solar aviation May 22 by flying from Phoenix to Dallas.
The Phoenix-Dallas flight is expected to cover a distance of over 830 miles (1337 km). The previous distance record already belongs to Solar Impulse when André flew 693 miles (1116 km) from Switzerland to Spain in May, 2012.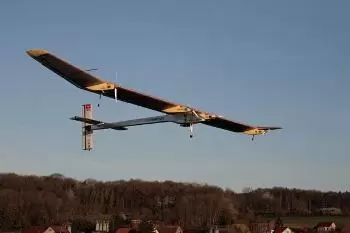 Solar Pulse can fly day and night without fuel(Photo Courtesy: Solar Impulse/ Stéphane Gros)
Solar Impulse said in a press release that "by achieving historical firsts and setting new records" it "hopes to inspire everyone to be pioneers and change-makers to bring solutions for today's challenges."
Through an initiative called Clean Generation, Solar Impulse is also making an effort to create a global movement to promote the use of clean technology.
The names of those who join this movement are carried on a USB key kept in the cockpit and transported across America as virtual passengers.
Solar Pulse can fly day and night without fuel.

According to the company, the "carbon fibre airplane has the wingspan of a Boeing 747 (208ft) and the weight of a small car (1,600 kg).

"A plane so big and light has never been built before. The 12,000 solar cells built into the wing provide four 10HP electric motors with renewable energy. By day the solar cells charge the 400 kg/ 881 lb lithium batteries which allow the plane to fly at night." – TWL Bureau


Trending Now: