A complete toilet solution that is mobile and cost-effective for rural India

10-May-2013
Vol 4&nbsp|&nbspIssue 19
At a time when steps are being taken to improve the Water, Sanitation and Hygiene (WASH) infrastructure in rural India, Promita Sengupta, a former banker, has innovated a "quickly deployable, cost-effective, complete toilet solution."

The innovation is a tent like structure made of tarpaulin sheets, with a detachable sloping roof, windows, holes for ventilation, Velcro latches and hooks for hanging clothes.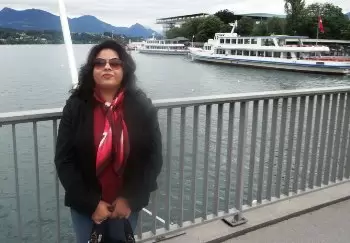 Promita believes providing these toilets to rural schools will improve attendance of girls
It takes less than 5 minutes to dismantle or deploy the unit, which is erected over a pit and used as a toilet.

In last three years about 2000 such toilets have been installed at villages in Bihar, Assam and West Bengal.

NGOs have provided these toilets for people displaced by floods and other natural disasters. It has reduced open defecation and improved hygienic practices in rural areas.

The pits are dug up by local volunteers, who use proper techniques to convert the human waste into manure.

"Our patented innovation 'nCircle R' is a quickly deployable superstructure that ensures privacy and dignity to all.

"Women also use it for taking bath, changing clothes or feeding their babies," says 40-year-old Promita, founder and director of Innovations Unlimited, a Gurgaon based all-women organization that seeks to promote women empowerment and rural hygiene through social innovations.

Promita felt the need for a portable toilet when she found toilets often unhygienic during her numerous road trips across India with her family.

Being artistic and having a flair for painting, she conceived a design for a portable toilet and later developed the prototype with the help of her engineer father and got it patented.

When her friends from NGOs came to know about her innovation, they foresaw its utility in rural India and at relief camps. The simplicity of the structure, and its easy and quick installation became the product's USP.

It is easily transportable and weighs around 16 kg with its iron pegs. The structure occupies an area of 4 feet by 3 feet and measures 6.3 feet tall when erected.

Its installation in rural schools, where there were no toilets earlier, has improved the attendance of girls. Many girls in villages discontinue their education after they attain puberty due to absence of proper toilets at schools.

NGOs Caritas and Cordaid installed these toilets at a rural school in Sitamarhi in Bihar, and reported that attendance of girls at the school went up significantly after the toilets had been installed.

That such a basic amenity is not available at many schools continues to be a major cause for the high dropout rate of girls from village schools.

Promita says a little thought goes a long way and if toilets are provided in rural schools it could give the precious gift of education to many girls in the country.

Not just the school in Bihar, whole villages and settlements are experiencing the change. Local NGOs have erected the toilets at Lakhimpur and Dhemaji in Assam, and Malda in West Bengal.

These superstructures were recently used during the social unrest in Assam for the displaced people. They were also used as changing rooms for pilgrims during the 2012 Amarnath Yatra.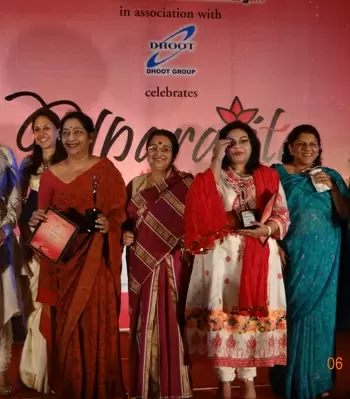 Promita received the Aparajita Women Achiever's Award from FICCI Kolkata
Some units have been exported to Nairobi, Bangladesh and Juba in South Sudan.

Promita says the product is sturdy and ideal for use by army personnel when they are on the move. Some cantonments near Delhi have tried it and given her positive feedback.

According to a wind test report, the superstructure when properly pegged on toilet slabs, can withstand a wind speed of up to120 Km/hr.

Promita says the bulk of her products go for disaster management and few products are used in rural areas.

Her aim is to make more products for remote schools across the country, because she believes it will bring more girls into schools.

She makes marginal profit to keep the product cost low. A basic model that can be used for changing and feeding purpose costs Rs 4500, and the full toilet set costs Rs 7200.

Hers is a small organization where she is the director and Shweta Bais is the sales and marketing head.

A graduate from Loreto College, Kolkata, Promita also holds an MBA degree. She has invested more in the manufacturing unit at Kolkata, where about 8 people are employed.

Ali Ahmad Iraqi takes care of the Kolkata unit and is involved in their R & D (research and development) efforts.

Promita is happy that her innovation is having a social impact. She has not thought of marketing it among trekkers and campers as yet.

"We have been privileged, and if we don't do something for needy people who else would do it?" she asks.

She can give herself a pat for a job well done that has brought relief and dignity to thousands of women.


Trending Now: