Driving mosquitoes away without harming people, Hermo set to create history

P C Vinoj Kumar
&nbsp | &nbsp Thanjavur
03-May-2013
Vol 4&nbsp|&nbspIssue 18
S Prabakaran, a young innovator from the small town of Thanjavur in Tamil Nadu, has launched an herbal mosquito repellant under the brand name of 'Hermo' that comes as an alternative to the chemical based creams, liquid vaporizers, and coils in the market.

Hermo, a water-based natural formulation consisting of extracts of herbs, is used as body spray.
Hermo has received good response from the market as it is free from chemicals
Introduced in the market in January, a 100 ml bottle of Hermo is priced at Rs.70. The product is currently available in six districts; Trichy, Thanjavur, Chennai, Coimbatore, Thiruvarur, and Nagapattinam.

"Hermo has been found effective in repelling mosquitoes. It is totally safe, and certified as non-allergic and non-toxic.

"Siddha and Ayurveda doctors are prescribing it to their patients," says 22-year-old Prabakaran, who completed his B.Tech in biotechnology from Periyar Maniammai University (PMU) in Thanjavur last year.

Each 100 ml bottle of Hermo contains cymbopogan citrates (lemon grass) 6ml, cymbopogon martini (Indian geranium or rosha grass) 1.5 ml, azadirachta indica (neem) 2ml, ocimum sanctum and (tulasi) 0.5 ml.

An incubatee at Periyar TBI (Technology Business Incubator), a joint initiative of PMU and Ministry of Science & Technology, Government of India, Prabakaran started work on the product when he was in second year B.Tech.

He was struggling academically then. Used to being a topper at school, Prabakaran could not cope with the English medium of instruction in college.

"I had studied in Tamil medium at a government school in my village. I found it hard to learn in English.

"I had 4 papers arrears in my first year and 2 papers in my second year. I became frustrated and even contemplated suicide," he recalls.

However, there was a dramatic turning point in his life.

The herbal mosquito repellant idea, he says, came to him in a flash when he was pulled up for chatting in class.

"There was an upcoming science festival and our department head was seeking project ideas from students. I was engrossed in a conversation with a classmate.

"Suddenly the professor shouted at me and asked me what I was doing when everyone else was giving suggestions.

"Just then the girl I was talking to swatted a mosquito sitting on her hand and I blurted out, 'Sir, I plan to make herbal mosquito repellant.'

"My professor, E Ve Raa, took it seriously and made me work on the project from that very day. We created a raw formulation with extracts from eucalyptus leaves and other herbs."

At the science festival in Coimbatore, curious visitors picked up several packets of their 'herbal mosquito repellant,' which was sold at Rs.50 per packet.

"People were attracted to the herbal label. Prevalence of dengue fever at that time also contributed to the sale," says Prabakaran.

Prabakaran realized the demand for such a product in the market and thought of developing it further.

PMU, which has a policy of encouraging innovations, started supporting him. He was inducted as an incubatee at Periyar TBI, which provided him with lab facilities and the technical guidance to continue his research.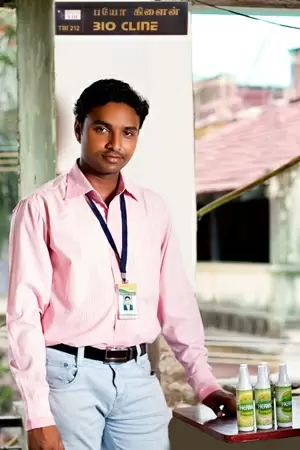 Prabakaran hopes to create 50,000 jobs by 2020
Soon they were able to develop a commercially viable product.

"Hermo is a unique product. It is herbal based, it needs no power to work, and it does not let out smoke. I believe it is a timely launch and the product will do well in the market," says A P Aruna, CEO, Periyar TBI, and Prabakaran's guide.

PMU's Vice Chancellor, N Ramachandran says the university motivates its students to become entrepreneurs based on the PURA (Providing Urban Amenities in Rural Areas) concept.

"We encourage our students to get into development of eco-friendly products and set up their enterprises in rural areas, so that local resources are utilized and jobs are created for villagers. It has to be a win-win situation for both the entrepreneur and the villagers," he says.

Meanwhile, demand for Hermo is slowly picking up. Around 1000 – 1500 bottles are being sold every month now.

Prabakaran says an agency is negotiating for marketing rights for the product and is interested in procuring 20000 bottles directly from him every month.

His enterprise has provided jobs for 4 people already, but he hopes to create 50,000 jobs and enter at least 4 countries by 2020.

Wish to share your story?
Trending Now: