3-D hologram wizardry now in India

Quaid Najmi
&nbsp | &nbsp Mumbai
28-January-2013
Vol 4&nbsp|&nbspIssue 4
Now you can get life-like 3-D hologram images of yourself to wow your family and friends. Welcome to the futuristic and exciting world of wizardry at India's - and Asia's - first 3-D hologram studio for recording live subjects in Kerala capital Thiruvananthapuram.
The studio has been set up by Light Logics, India, under the guidance of world-renowned holography scientist P.T. Ajith Kumar and supported by NRIs from the US, Britain and the Middle East.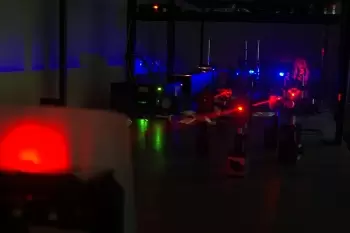 Asia's first 3-D hologram studio for recording live subjects in Thiruvananthapuram (Photo: IANS)
"Holography is a technology to record and reconstruct light with its full information content, meaning light from a scene or a subject, which contains intensity and depth information. Unfortunately, in conventional photography, we can record only the intensity information of the light," Ajith Kumar explained to IANS during a recent visit to Mumbai.
Holograms and 3-D holographic images are recorded with laser light and with specialised equipment.
"This can record the whole information of the light field coming from a scene and recreate it elsewhere, virtually transporting space or a subject to a different location," Ajith Kumar said.
The possibilities of the studio are immense and awesome, with unprecedented display- related applications.
For instance, it can be used for recording life-like and visually stunning holograms of our national leaders, sports personalities, film stars and other celebrities.
Ajith Kumar said that there are some computer-generated holograms now available, but these are not suitable for living subjects as they distort the images and lead to pixelation.
"Many of such computer-generated projects and spectacle-less stereograms are erroneously termed as holograms for marketing gimmicks and catching customer interest," he added.
But, then, the 3-D holograms don't exactly come cheap - for instance, a single portrait of 6x40x30 cm can cost around Rs.20,000.
The same image, if produced on a mass scale and in smaller format could slash the cost to an affordable Rs.350 per copy, Ajith Kumar said.
"Recording images is just one of the applications. Holography has other crucial scientific and engineering possibilities. It can be used for testing the flatness of airport runways, precise non-destructive testing of aircraft tyres and oil pumping pipes, and extremely high-density data storage, making it both highly artistic and highly-technology oriented," Ajith Kumar said.
It is learnt that the Indian government is planning to record 3-D holographic images of top leaders like President Pranab Mukherjee, Prime Minister Manmohan Singh and others for posterity, but through foreign companies.
Ajith Kumar has been working in the field of holography technology for over a quarter century with his Light Logics, bagging top honours in India and abroad.
The company won the ISBA National Award for the best Engineering Design Company in 2009 and two gold medals in the India Innovation Programme jointly organised by the Department of Science and Technology, Lockheed-Martin Corporation, Indo-US Science and Technology Forum, the University of Texas at Austin and FICCI.
In 2010, the company bagged a gold medal for developing a gen-next holographic weapon sight and in the following year for developing a fully-optical smartcard which could serve as a national ID card or health card - both of which need to store high-resolution images.
"This card is futuristic in terms of security features, ruggedness, data storage capacity and can be used as a unified ID device and as a secure financial transaction instrument like a credit or debit card," Ajith Kumar said.
Having perfected the technology, Ajith Kumar is now keen to set up 3-D hologram studios on a franchisee basis in all the metros, followed by all state capitals, with investment partners. The studio, copy studio and the technology package costs around Rs.2.5 crore (25 million rupees).
Despite the seemingly high investment, the break-even point could be achieved in less than a year, Ajith Kumar said.
"This technology is available in a handful of countries such as the US, Britain, Russia and France. But the price per hologram is the most cost-effective here, say, around one-third of the US. With awareness, it can be even cheaper," Ajith Kumar said.
A 3-D hologram studio, requiring 220 sq. ft. of space, would include a main camera, copy cameras and the studio system and the actual technology. Most of these, except the lasers, are manufactured in India.
"I am hopeful that soon, 3-D analogue holograms will become a mass consumption product, especially in India, South Asia and the Middle East," Ajith Kumar told IANS.
He also said that mass copied holograms of historical personalities like Mahatma Gandhi, Jawaharlal Nehru and Indira Gandhi, mythological and religious personalities (Lord Ram, Mother Mary, Sai Baba), sports icons (Sachin Tendulkar, Sania Mirza), film-stars (Dilip Kumar, Amitabh Bachchan, Shah Rukh Khan and Katrina Kaif ) would be a major draw for fans, devotees and commoners alike. - IANS

Trending Now: