Her goal is to impart holistic education to the poor and advocate gender studies for both girls and boys

26-January-2013
Vol 4&nbsp|&nbspIssue 4
Educationist Urvashi Sahni uses an innovative and cost-effective technique to impart quality education to underprivileged school kids. Through a project called 'Digital Study Hall' (DSH), the Lucknow based pedagogue has shot over 2000 videos of classroom lectures of some of the best teachers from 'middle-class' schools in cities, which have been used to teach students in rural areas and urban slums.
The project that was launched in 2005 has benefitted over 6000 students studying mostly in government schools located in parts of Uttar Pradesh, West Bengal, Maharashtra, Karnataka and Punjab. Many of these are single-teacher schools, where the teachers lack the skill and training to impart quality education to students.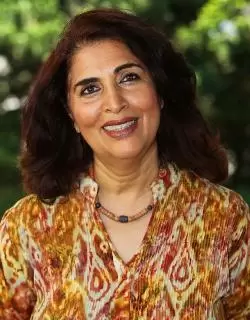 Urvashi started her first school with just 6 students in a garage
DSH makes the content in local language according to respective state curricula from urban hubs like Lucknow and Pune. The videos are then sent in DVD format to the 'spoke schools' or beneficiary schools, where the videos are played in classrooms.
The 'spoke schools' just need a DVD player and a TV set to be part of the project. The videos are shown with the help of local teachers, who are trained to follow the content and mediate with students.
"Currently we have active hubs at Lucknow, Pune and Shuvtara (near Kathmandu) in Nepal. Lot of content was developed in Bangalore hub too, but we don't have a partner there now," says Vikas Mishra, who works with Urvashi.

Urvashi received the prestigious Tech Laureate Award from Tech Museum of Innovations in San Jose, USA, for the DSH project. She and Randolph Wang, a former computer science professor in Princeton University, take care of the pedagogical design, direction, and evaluation of this low cost digital education project.

It was the desire to offer wholesome education that prompted Urvashi (57) to set up the Study Hall Educational Foundation in 1986 at Lucknow.

Starting with just 6 students in her garage, the Study Hall School currently has 2200 students and about 100 staff members. A rural school that she started in 1987 in Malihabad district has strength of around 472 students. Her foundation also offers a program for children with special needs.
'Prerna Girls School' was started in 2003 for girls from low income group. The school now has over 700 students. Since many of them work as domestic helpers, the school functions in the afternoons only.
"We went from house to house in slums enrolling girls with token monthly fee of Rs 10 to start Prerna with 30 students," says Urvashi.
The school goes beyond formal education and helps the children deal with practical problems that they face in their day-to-day lives. They are taught about issues such as domestic violence, dowry menace, gender biases and child marriages. Thanks to the exposure at the school, many have plans to become doctors, pilots, and even get into business.
Urvashi feels strongly about women empowerment having faced subtle gender discrimination as a child. She grew up with three brothers. Her businessman father never thought about her career even though she excelled in studies.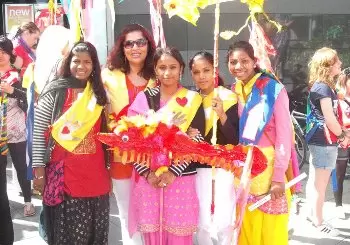 Urvashi with students from her school
"My parents only viewed my future life in the role of a good wife and a mother. I think it's a structural problem in our society," says Urvashi.

As a child she often wondered why her brothers had all the liberty to enjoy life and make a career, but she didn't. She was given in marriage when she was 18. But all this only made Urvashi more determined to work for women empowerment. Today, Urvashi's father is her biggest supporter in her life's mission.

After marriage, Urvashi studied at University of Berkeley in USA. She holds a double Masters in education and philosophy. She also did her PhD in Education with specialization in language and literacy from there.

The education that she gave herself was under most challenging circumstances, since she had to leave her two young daughters and businessman husband in India to pursue her aspirations abroad. But the knowledge she acquired stands her in good stead in her current role as an educationist.

Urvashi is contented with what she has achieved until now. She is happy with the way the Prerna school is shaping up and empowering the girls. She has started 'Didi's food,' a project where girls are employed to make food that is supplied to various corporate canteens.

For Urvashi, the future path is clear. She just wants to live her motto; to innovate, to outreach and to have impact.


Trending Now: