Channelizing a destructive energy for constructive use did not happen so easily

09-November-2012
Vol 3&nbsp|&nbspIssue 45
None imagined that the 'destructive' pine needles which caused massive forest fires in the central Himalayan region of Uttarakhand would someday be spoken of as a source of electricity.

But one man, Rajnish Jain, dreamt that he could channelize the destructive energy of the pine needles into constructive use.
Rajnish has plans to install 20 power plants in next five years using pine needles
Rajnish, who was working for rural development through his organization 'Avani' in Berinag village in Pithoragarh district, has developed the technology to use the pine needles for a biomass gasifier to generate electricity.

The power plant he has set up produces 9 KW of electricity and is seen as a major technological breakthrough that could go a long way in controlling forest fires in the region, besides producing electricity to meet local needs and providing jobs for the people.

Since the mid 1990's, Rajnish has been engaged in various rural development programs, capacity building, solar energy projects and livelihood generation programs for the local population.

His wife Rashmi, co-founder of Avani was always by his side. As chairperson of the producers' cooperative which is into making natural fibre, naturally dyed silk and woolen textiles, she plays an active role in rural empowerment.

"It was the forest fires that made us take notice of pine needles as a potential source of energy," said Rajnish.

There are large tracts of pine forests in Uttarakhand and these trees shed a lot of pine needles during summer. These pine needles, which catch fire easily in hot conditions, have destroyed huge forests.

Rajnish said people tried making charcoal from pine needles but that did not take off since the village folks were not willing to pay for it, as fuel – read firewood - was readily available in the forest.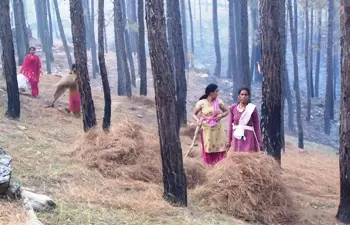 Women collecting pine needles
The idea of using biomass gasification as a technology for generating electricity hit Rajnish when someone spoke about the potential of pine needles as a feedstock for gasifier in a conference on renewable energy.

When he shared the thought with the villagers, everyone laughed at the idea. But he let his logic overrule all doubts and scepticism. He knew that pine needles had tremendous energy and biomass gasification was the right technology to harness its tapped energy.

There were few operational problems, though. It took them three years to address the technical issues and get the project up and running. The result was a 9kw plant that could meet the needs of about hundred people.

Rajnish said the pine needles are slender and approximately 25 cm in length. The collection from 1-2 hectares of forest could provide electricity to fifty people and provide quality charcoal for cooking to five people.

The burning of pine needles in the gasifier produces gas which drives an alternator that generates electricity.

Generating electricity from pine needles would have a ripple effect on the village economy.

Villagers would collect pine needles and they would get paid for it. The forests would be cleared of pine needles thus reducing the chances of fire to a large extent, and the rural youth would be trained to operate the power plants.

Rajnish recalls how it was the call of the serene Himalayas that prompted him and his wife to shift base to Himalayas and start the Kumaon chapter of the Barefoot College (at Tilonia, Rajasthan).

He is from Haryana and his wife Rashmi is from Delhi but they chose to work in the inaccessible villages nestled in the fragile eco-system of Himalayas.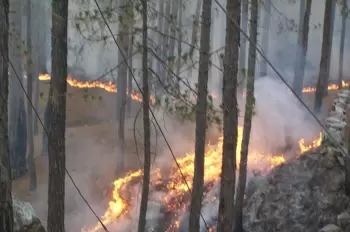 A forest fire
This region didn't have access to government schemes and most youth migrated to plains in search of job opportunities. It prompted the couple to use their skills in rural development for the benefit of the locals.

Rajnish has plans to install 20 power plants in next five years, each having capacity to generate 100-150 KW of electricity.

He says that an average rural household's consumption for electricity is low, so each power plant could easily supply electricity to 1000-2000 households in the hills.

Rajnish is optimistic that the pine needles would become a catalyst for change and they would generate about 2000 jobs, restore 4000 hectares of biodiversity, and earn around 60000 carbon credits annually.
Wish to share your story?
Trending Now: