A scientist with a heart, helping the rural women at their hearth

Suchismita Pai
&nbsp | &nbsp Pune
17-August-2012
Vol 3&nbsp|&nbspIssue 33
Priyadarshini Karve, 41, is not some unapproachable scientist lost in her own world or researching some hard-to-pronounce phenomenon.
In fact, whether it is her work on sustainable lifestyles, bio fuels, gasifier stoves, renewable charcoal or bio gas from kitchen waste, Karve has had a finger on the pulse of rural women who are often the most neglected and face the greatest hardships in the developing world.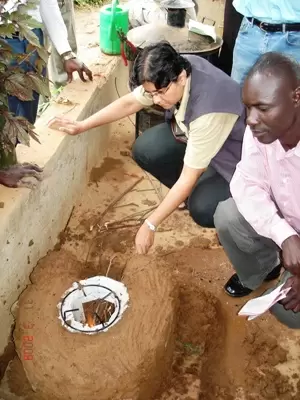 Priyadarshini Karve demonstrates the use of an eco-friendly stove. (Photos: WFS)
"It was sheer laziness that led me down the inventor's path," laughs the scientist, who has won the Ashden Award for Renewable Energy in 2002 for her biowaste-to-charcoal technology.
"Though I always wanted to be a scientist – growing up I vaguely imagined myself working in a lab of some sort – it was by chance that I came upon the idea of cooking stoves that work on bio fuels.
"While I was pursuing my degree in Physics, I was required to do a project and since my father was already working in the area I simply took up the task of creating a compact fuel with sawdust and sand for stoves used in rural areas. It was a daily dose of smoke and soot for those three months that made me realise how tough it must be to cook in such conditions for years on end and that led me to research in this field," she explains.
What drove Karve further was the knowledge that every year tens of thousands of women and young children die from indoor air pollution.
"A WHO survey says that every year 5,00,000 women and children die prematurely in India due to various ailments arising from long term exposure to smoke in rural kitchens," she observes.
Born into a family of social reformers, anthropologists, scientist and thinkers Karve, the great-granddaughter of natonalist and social reformist Maharishi Karve, was free to make her own choices.
"Others would ask me about my career choices but my parents never forced me in any direction. A childhood in the semi-rural environs of Phaltan town (100 kilometres outside of Pune, Maharashtra), helped forge a deep connect with the rural lifestyle and its problems.
"However, the fact that a physical phenomenon could be fully explained with a mathematical expression held particular fascination for me and I decided to major in Physics. My final year stint of working with cooking stoves led me to explore the area of alternative energy," she elaborates.
Intrigued by the idea of creating an efficient stove, Karve joined Pune-based Appropriate Rural Technologies Institute (ARTI) in the mid-Nineties and turned her complete attention to bio-waste as a source of energy.
"The farmers in the Phaltan area burnt off the biomass residue from cane sugar production. We developed an oven and retort type charring kiln and a briquetting process to convert this loose biomass into char briquettes. We also created a highly energy efficient device for using these briquettes for steam cooking," explains the industrious scientist, whose office is piled with cooking stoves and other labour-easing, eco-friendly devices.

Even though Karve smilingly admits that inventing a cooking stove for rural women is "not very glamorous," she is quick to add that "technically it is much more difficult to design an efficient, user-friendly stove than it is to design a rocket engine".
She says, "It was not easy. The cooking fuel can range from cow dung cakes to logs to corncobs, with a variety of chemical compositions and physical attributes. Therefore, extracting the same 'quality' of cooking energy, day in and day out, is a scientific challenge."
Over time, Karve's passion for research in renewable energy sources has led her to connect with similar sustainable living enthusiasts on the Internet. In fact, in the late-Nineties she had even brought together a group of like-minded crusaders keen on meeting and exchanging ideas by hosting an international conference.
"I had no idea of what it would entail, how much it would cost, where the money would come from or even that one needed prior permission from the government for such progammes," she recalls.
But she pulled it off anyway – and it opened a great window of opportunity for her work. "Fifteen potters who had been trained by ARTI in making stoves offered us Rs 60,000. All participants agreed to fund themselves and we hired two Pune Municipal Transport buses for our field visits. It was the first ever conference of its kind," she says.
It was a delegate at the conference who told Karve to apply for the Ashden Award for Renewable Energy for her technology of converting agricultural waste into charcoal. Though she was reluctant at first, she ended up winning the award in 2002. "The cash prize of Rs 20 lakh provided a big fillip to our efforts. The awards and international recognition that followed brought in sponsors and allowed us to test our ideas."
There were some great tangible results, too. Just one three-year project with over 120 potters saw 75,000 stoves in the rural areas adjoining ARTI replaced with a more efficient, less polluting alternative.
Along her journey of innovation, Karve has learnt many other lessons – particularly the importance of marketing. "Our stoves were sold in stores that stocked steel and aluminum kitchen vessels. The shopkeepers had no real incentive to promote them. Now we have moved away from that model and have created entrepreneurs from some of our own enthusiastic users.
"They promote the stove and word-of-mouth publicity carries weight. I have also realised that no matter how good your product is, it needs some advertising and marketing. We are often asked why such a product has not taken off. All I can say is that even Coca Cola has an advertising budget," she says.
Of course, the impact of wider exposure and better distribution is visible. For instance, the Bharatlaxmi stove has made all the 500 households of Nandal village in Maharasthra's Satara district, smoke free. People here have reduced their fuel consumption by 30 per cent and cut smoke emissions by 80 per cent by junking the traditional stoves. The 30 per cent reduction in cooking time is a bonus.
As a single woman Karve has been independent ever since she moved out of her home in at 24, which was when she started getting enough scholarship money to support herself.
These days, although work takes up most of her attention, she does find some time to indulge in her love for books – her favourites being PG Wodehouse and Agatha Christie - and Indian classical music.
She even edits a Marathi publication targeted at school science teachers, motivating them to make lessons enjoyable for students. As a scientist she is conscious of the fact that her field of work is often dismissed as "trivial" and sidelined as "not frontline research".
"I find that even college students who come looking for projects regard this as low tech. An engineering student would rather do something with computers than risk such grassroots work," she rues. She wants to change this perception.
Meanwhile, Karve's work continues. "Developing better ways of extracting clean cooking energy from biomass fuels is not going to be enough; we need to take the innovations from the laboratory to rural kitchens in a sustainable manner. Also I want to urge people to not dismiss bio fuel and instead think of waste biomass as stored solar energy with immense potential," signs off the crusader-scientist. - Women's Feature Service

Trending Now: